Had a lovely weekend with mi muvver marred rather somewhat by the goddamnfucking cricket.
The weather was rather nice and fresh and a trip to minehead revealed the LYS.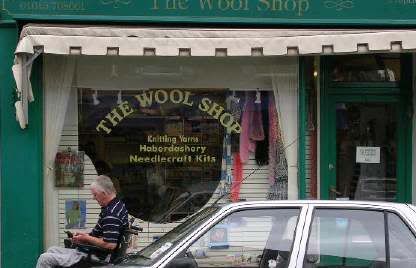 Theresa, the owner, was having a bit of a sale/clear out so these balls were all under £1.50 each.
Yes, it is all synthetic but I'll be dyeing some of it and makign wedding decorations with some of the rest. There's nothing crazily interesting there but it was a good shop and the owner was really nice.
This is the view oput of my Mum's garden. Exmoor National Park and this is the view on a bad day. On a good day you can see the quantocks. There are horses, sheep, cattle, cats, bees, all sorts of wildlife. The air is fresh and grade 3/4 lichen grows on the trees in the garden. So Pooch spent most of the weekend indoors watching the cricket.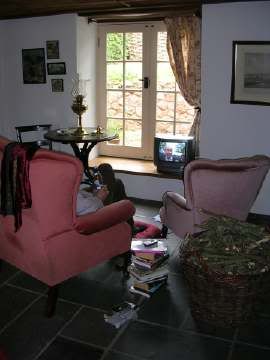 "Where's Wally?" Can you spot him? He's in the armchair. This caused one or two or more little fractious episodes. When the tv wasn't on the radio was. Even when there wasn't any play there was random babbling to be listened to. Anyway, that's in the past now. Pooch is taking the day off to watch the last day. I'm accepting the fact that he told me he couldn't take any more days off this year under any circumstances. It all meant I got a lot of knitting done.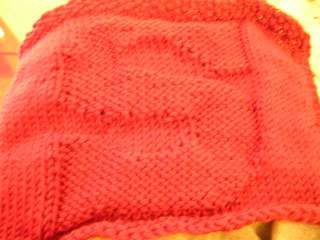 For example this is an 's' from the simple knits for elegant babies or elegant knits for simple babies or whatever. I'm really loving them. I did the s, i, a and am almost done on the 'n'. You see the sister who does not know about this blog is called Sian and I'm going to do a bit of module magic with them and make them into a shawl - which is what she wanted.
I did mention there were cats in somerset and here is a prime example. Enter stage right Artemis Finn.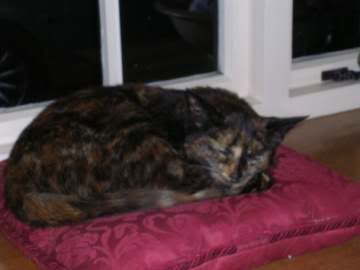 'Soppy' just doesn't begin to describe this cat. She hasn't got a mean bone in her body which is something for a cat because I have in the past generally admired them for their cutting sarcasm. Pooch is allergic though so I couldn't play with her much. She's not actually my Mum's - she's kind of catknapped her off her neighbour or in other words Artemis knows that if she comes round in the evenings she gets extra cat biscuits, milk, and a warm windowsill to snooze on.
So it was just about a good weekend although it was touch and go there for a while. I've got some blog reading to catch up on although I do see that nickerjac has spun some more stunning yarn. I feel strangely apprehensive today about work but I can't think why. I have therapy today but it's not that. There is a word that I have known in the past that means a feeling of calm before imminent catastrophe. I always default to fey but it's not that. Anyway, that's how I feel.