Let us get on with the knitting content first as that is the point of my blog.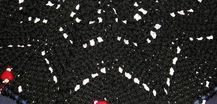 This is the first 33 rows of the 169 rows of the
Flower Petal Shawl
from Elann. Am doing it in plain old black as that meant I could start it straight away and because I figure that will be the most useful over time. I have fancied doing a shawl for a while and toyed with kiri and a couple of other mainstream ones but I love the shape of this and it is sufficiently engaging to keep the knitting interesting while not requiring much proper brain power. The yarn is RY Cashsoft Aran and what I want to know is - is 'microfibre' the new non-emotive name for acrylic? There's 33% of it in this stuff.
While strumming through my stash earlier I realised there is an extra new year thought I need to add which can't really be quantified but just needs to be born in mind....What you going to do with all those single balls you keep buying 'just to try'? This black was the only thing I had more than about 200g of.
Have been wearing my cherry tree hill socks today and they are just lovely. So luxurious. They are definitely the way forward and I did see that
Get Knitted
have some reduced to a 'tiny' £9.99. The shade doesn't scream at me though - plus I have a tonne of nice if not quite so luxurious sockyarn. So the sensible thing here, byrne, is to not buy it and put the money you would have spent towards
stitches east
. There's not much on the web yet except the dates but I have the brochure for stitches west and would really love to go. Looking at flights etc it seems like £300 for the flight, about £50 a night for hotel then there would be the major stash enhancement and registration fees. I'm still in kind of two minds though. It's a lot of money to lay out when I could save it for ally pally. Anyone been to one of these events before and want to give me their opinion?
I have listed some stitch markers on ebay again. They are all
here
. Postage is free again. This listing is a bit of an experiment as I know we're all a bit broke but they're quite tempting as impulse buys and won't do too much damage to the bank balance. The money from these will go into the america fund.
Last night ended up going very well. I don't often take liquor into the byrne-system and I loathe those conversations that start "I drank so much last night and then I ate a baboon and it was hilarious" but I do feel like showing off as I haven't been that drunk in about 3 years. What is it about being drunk that is so attractive though? It is liberating I suppose and it is quite exhilarating to lose control but it's not something I'd want to do a lot as it's expensive and although I haven't had a bad hangover there's no doubt it's not good for the byrne-physique. It was all very low-key (a phrase that seems to be a good descriptor for my life at the mo, not that I mind) and friendly and nice so the tube strike didn't wreck things really. I still loathe the RMT though.