With the very best intentions I started out for hounslow yesterday, initially meeting Nikki at Holborn. Discovered that as well as the district line being closed (which I knew about) the piccadilly line was also up the duff (which I didn't). Basically meant no way to get to west london. Was rather ticked off but Nikki marched me off to soho and a rather good time was had by all.
I'm not going to list all the shops we went into a that would take many pages (who'd have thought there were so many fabric shops in soho) but there are a few that deserve a mention. The Bead Shop in Covent Garden yielded these: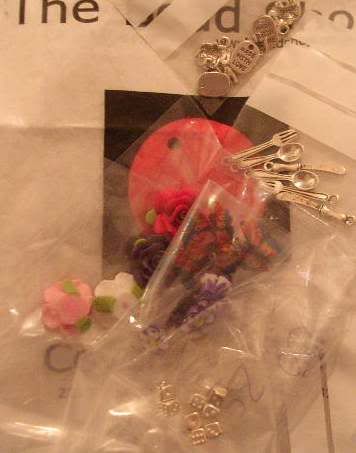 Nikki knew of this amazing bling
jewellery shop
which was packed full of sparkle and everything a girl could want in life. I was very restrained and just got these two:
I'm not saying what Nikki got.....
Then the
Cloth House
just off Oxford Street. I got the top two of these three from there and could have got a whole lot more:
As soon as i got back I started effectively swatching the fabrics I had to see which I'd use in the final thing. I decided against the brown one this time and got going. The hexagons are about 3cm across. I am aware that the overall effect is cute rather than actually attractive and I've just joined a new Yahoo group asking for advice on choosing fabrics and mixing patterns. A major source of inspiration is going to be
Yarnstorm
. But then that women is just a dude anyway. That squidgy date cake has my name on it.
Anyway, here is what we have so far. I ran out of paper templates which I've done on the graph paper generating website
here
. I just cut along the lines...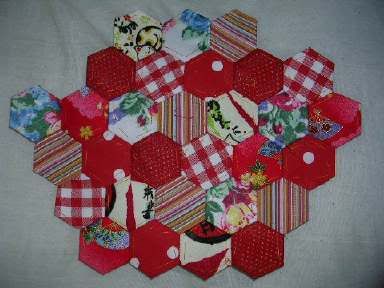 This is destined to be a cushion. But I would like to have a stab at something a bit bigger like these...