Another pair of friends have broken up this weekend. That's two in about 4 weeks. Pooch and I have been having lots of hugs and generally been being in love with each other. We're so lucky to have found each other and to be safe and secure within our relationship.
So it was very good timing that this morning I finished sewing up his first pair of handknit socks.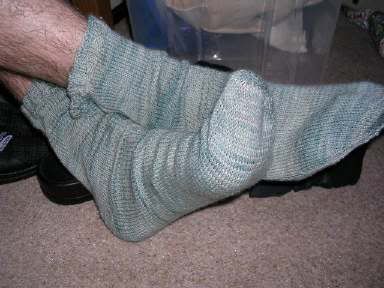 This is the curious yarns sock wool in ocean that he bought me for our secret pal in January. It was a pleasure to knit with - really lovely stuff. Good consistency. Lovely colours. Soft and generally lovely. Pooch is very excited with them and I think actually surprised at how comfy they are.
I was going through all my pattern books last night listing the wool I'd need for all the projects I'd like to do. There were 19 in all and it came to over 5 kilos so I guess I might not get all of it at SkipNorth! In fact I really won't because I have omitted to save up for a blow out. Ah well. Something will turn up. But until then (remembering it is only 4 days til kick off) I am left with a deartyh of projects. Actually that's not true at all but I've gone right off the cargo jumper and the black shawl is not giving me enough immediate reward as it just goes on and on. So....
....I'm going to start a little jumper for none other than Yoshimi of course. When I was down there last weekend they both liked the intarsia designs in a book I had so I am going to start a very simple one. I'm thinking a conventional raglan or other jumper type in the darker rainbow wool with a heart on the front and back in the pinky wool. I say wool, but it is actually courtelle.
I will keep you update on progress!