I love that word. Anyway, before I forget go and look at
this
. Hilarious. It waa reviewed on the
knitters review
newsletter. If you're not getting this weekly email you should think about signing up as the woman who does it writes really well and it is always interesting.
OK, to business. Guess who was lucky enough to get another SP parcel?! Oh yeah. Guess who's unlucky enough not to have found their camera? So on the dodgiest 'borrowed' office camera here is what we have...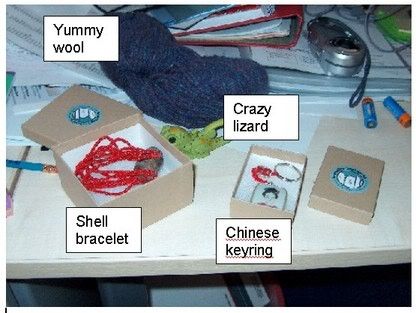 The labels hopefully say it all. Except they don't indicate just how excellent it all is.
Sun print paper - oh yeah.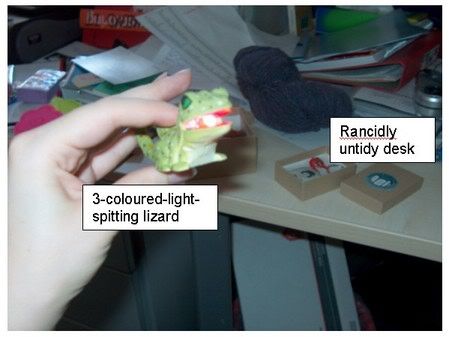 Close up of the light-spitting-lizard. I now have this lizard attached to my security fob that hangs round my neck all day at work. It just brightens my day no end having a lizard attached to my neck.
So once again my SP plays another blinder and is to be worshipped from afar. It's just a shame I can't do justice to the things with better pictures.
In other I'm-so-spoilt news
look what I got for my brithday
. These are really rather special. Like butter. I took them to knitting group last night and a certain lady just sat there stroking them. A - you so have to go buy them. You absolutely deserve and NEED these needles. Just think of the space you'll save when travelling. Many thanks to Tom for these!
There has been quite a lot going on with byrne these last few weeks. Let's just review some of the highlights....
Pooch and I are more or less sorted out as this break from each other has been really helpful in remembering why we miss each other and why we got together in the first place. I'll be moving back in in a week or two.
I knitted a pair of socks in a weekend (actually intended for Mr Pooch) and for the first time used 2 colours. The leg part is striped and has a slip stitch rib every 5th stitch which gives them a nice smudged effect.
Having startedmy journey into 2-colour socks I just turned the heel on another pair which, wait for it, use fairisle around the tops to make little red hearts. They really are rather sweet!
I counted and if I wanted to go all out I need 12 pairs of socks for xmas. So let's not be stupid and call it 6.
The epic aran for my step-dad now has half a sleeve and a back (or front, depending on how dedicated I feel). I just don't know if I can face doing a whole cabled front/back again as it took SO much effort and about 11 months of on/off knitting.
SkipNorth 2007 will be going ahead. We will be back in Haworth and I'm sorting out the date next week hopefully. Nickerjac is co-hosting again. It should be wicked bad and even better than last year. Watch this space for more info on the date and cost. This year will include an 'upgrade' package where you can choose to stay in the hotel across the road instead of the hostel dorms.
The NWKTog group will be doing the london bridge walk in September. Feel free to sponsor us online! We'll be knitting as we walk. No, seriously.
This weekend I am off to Pooch's sister's wedding which should be rather nice. Looks like it will cool down a bit too which is a blessing as I hear it was 37 degrees here yesterday and of course it has been up to 50 (!) on tubes and buses which is just insane.
Hope everyone has a good weekend. Especially my SP who is just fab!