You know that music at the beginning of DVDs that goes Dum Der Digger Digger, Dum Der Digger Digger? I am a law abiding person excepting the occasional photocopied knitting pattern but there is something about that music, denied to warn you off downloading movies illegally, that really makes me *want* to steal a car. And a bag. And if I had a DVD writer I would steal films too. It's the way I am forced to watch this little mini movie EVERY time I watch a DVD. Every....fricking.....time. DVDs that I have bought and own legally and everything. I wouldn't want to steal just anyone's car though - look at how horrible it was when some scumball knicked Woolly Wormhead's van - I want to steal the car of the person who decided that that little film with the Dum Der Digger Digger would play everytime I watched one of my own films.
OK, dirge over and no more timewasting - we've got an alphabet to finish here folks!
L
is for
Luuuuurve
. Because today Pooch and I love each other and everything is Luuuuurvely. Who knows what tomorrow will bring but for today - all is well.
M
is for
Medical Assistance
. This is my way of getting round the fact that I have already long passed D and also that I wanted to tell the world how brave I was at the dentist today. Why don't they give those stickers to adults? Those ones that say what a brave girl you've been. I want one. I want a huuuuuge one.
N
is for
noteatingasmuchasIusedto
. I lost 2 pounds!
O
is for
Octopus
. I want to knit an octopus. All those dangly legs. I know I've seen patterns. Why haven't I knit one yet?
P
is for
Podcast
! I am still on this. One might say "I've got 5 on it". Is that rude? I keep wondering. I really need Miss Louise Cameroonie to tell me because she knows stuff like that. I think of it as having something in hand but it could equally be a euphamism or however you spell it for wanking. On that topic my podcast is going to have sex tips. And jingles. Ha! Also on that subject, P is for Pooch. P is also for Pez. I bought my ickle brother this little one earlier.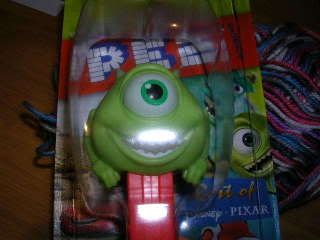 Isn't he cute? Brother is actually 15 but you're never too old for Pez. Er, right?
Q
is for
quilting
. I had all these good ambitions about making a quilt but it's gone no where. I just tried to make some ATCs using bondaweb as a quilting shortcut and stuck the fricking bondaweb to the paper and now the whole lot is buggered. Screw it. What's a buggered ATC between friends? Ha!
R
is for
reading
. Have I mentioned already that I am currently reading Dan Brown's Angels and Demons? I am doing it for work and writing a review of the physics content. Which incidentally is quite extraordinary. My psychiatrist has several times recommended The Life of Pi. I really ought to read it. Anyway...mind went off at a tangent there.
S
is for
Slimfast
. Obviously. Did I mention already....
I lost 2 pounds!
T
is for
toes
. I know this is getting a bit tenuous now but let's stay with it. I have finished a sock. Same old simple 2-needle pattern using the bargain regia silk sans ballband I got form "
the Wool Baa
" on ebay (this is also where I got the yarn for the sister socks, which Debbie over at the
Well-Tempered Knitter
and also the
Curly Cable gal
asked about.) I do have a recipient in mind but I'm just not sure whether he'll go for them. Will ponder a bit more.
U is for Um.
V
is for
Valentine
. I started a Valentine magic yarn ball swap on swap-bot. I know I said I'd never go there again because I kept getting shafted but I got lured back. But never again. They've changed the rules without telling people so if you're the swap host you're basically buggered. Either way I am still committed to this swap and soon this little lot...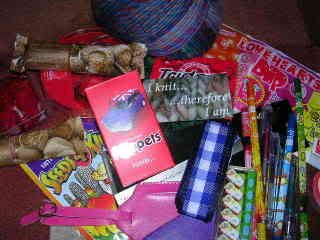 ....will be winging its way to Holland all wrapped up in that ball of Taos you can see at the top of the pic.
W
is for
weekends
. I'm still hurting about having missed mine due to the Pooch-given-lurgy. Goddamn Pooch.
XYZ
is for xyz-I'm-bored-already. It was getting a bit tenuous.
OK, now for the bit where I inflict this alphabet on all you guys. The challenge is for you to come up with one word to describe yourself going all the way through the alphabet from A-W. Think along the lines of Adorable, Beautiful, Cross-stitch, Devilish, Earnest.... I'm going to tag 5 people and we'll see how far it goes.
I tag.... Nickerjac, WoollyWormhead, Moo, Gill (knitting at number 9), Purl Power and Kate (knittheknits). Guess I'd better go and tell them.
Oh but before I do..... Pooch bugged me for more than a year for a winerack. He complained constantly. And I mean constantly. The boy is persistant. So I buy him a winerack. To be more precise I buy him a self-assembly winerack in November. I assemble it myself. It took more than an hour, fecking winerack. And does he use it? See for yourselves...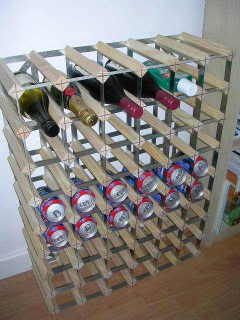 The pepsi and mouthwash are my additions and the two bottles of wine are out of the ocado delivery that just arrived that I paid for. The mini champagne is from our engagement party that happened a year ago. Honestly.