have I got some yarn for you. There is this absolutely amazing yarn store just by St Anne's station where we were staying. It's called "The Sheep Shop" and before I go any further I have to point out that Pooch found it. Yes, he has officially developed wooldar. The owner is Suzy and she has an ebay seller name of suzysheepshop and she id a dude.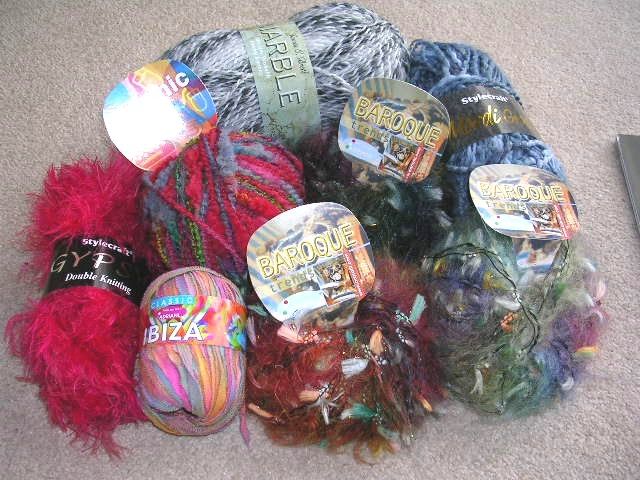 So the spoils include some Adriafil which is italian and I'd never seen it before. Have got some "Graphic", "Baroque" in three colours and "Ibiza" which is a cotton ribbon yarn. All very yum. Then have some "gypswy" (very soft), black and white james c brett "Marble" which is what I did my cardigan in. Last a ball of stylecraft "Mardi Gras". And then the amazing happened.....
I admired a jumper hanging from the ceiling and we discussed how wonderful Debbie Bliss Maya is. Then she said the magic words.... "I've only got about 8 skeins of that left now. You can have them for £4.50 each if you want." OH MY GOD. I mean, they're normally £8.50 and these are the best shades of red ever.
The holiday (yarn aside) was blinding. The weather was absolutely ghastly but we had excellent fun. Pooch has been a darling and have a picture of him to post once I've recovered from my shop this morning. And I know I said I was out of cash and have to stop buying yarn in my last post, but now I am REALLY short of cash (god bless credit cards) and so NO MORE YARN!!! (Until Woolfest...)