Was touched by the Feed the Children appeal for jumpers so took the shiny red yarn I got on ebay but never really liked texturally (I LOVE the colour and the shiny glittery bits and it is soft but something about it makes me feel uncomfortable - no I can't explain it) and started a very plain little thing.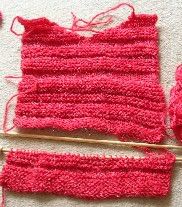 And then here is branching out that I tried in not particularly good wool. Looks quite pretty though.
Then the rest
Have annoyingly allowed myself to have a suicidal spree of thinking this morning. All because my boss just (rather unnecessarily but fairly predictably) took the piss in a team meeting when I made a comment. That started me thinking about moving job and that started me thinking about not knowing what to do. So then that started me thinking about how the whole concept of 'obsolescence' is what put me in hospital with the depression anyway and that got me thinking about how much longer it was going to take to get better and THAT left me thinking about whether I'd made the right choice not to top myself at the time. All this thinking took about 3 milliseconds which left me slapped round the face with the wet fish of suicide in the middle of a team meeting with my boss laughing at me. Now have to dig myself out of the hole I just fell in. Thankfully it is knitting at golders green tonight so that should lift my spirits a bit.