Sent a postcard to my SP today. Well...I really liked it when I got one from mine so I thought I would pass on the happiness.
Finally a knitting pic: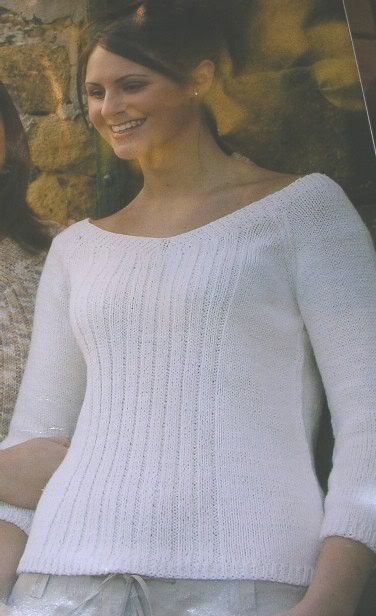 This is what I am currently busting my gut (although not really - nice belly being nurtured on the byrne personage) over. Except I am doing it in bright red (Yes, I do knit in red a lot) with short cap sleeves. Have almost done the back which knitted up really fast in the cotton cashmere I got from coldspring. Lovely to knit with!
I finally caved in to peer pressure concerning the
designswool@aol.com
closing down sale. It was all the talk of sock wool that did it. I kept thinking I'd hold off til Alexandra Palace but that will be full price whereas this is all reduced. Will see what they have left.
Pooch and I had a heart to heart yesterday as we had rather a large disagreement in buckhurst hill of all places. We went there to feed ducks. No ducks but there was a summer fete. Disagreement about whether we should go or not followed by lots of other accusations as is always the way when such things kick off. We made up but I am going to make more of an effort to be interested in his stuff. Have made him my new secret pal, just without the secret bit!
Just found the MIT survey on Nickerjac's blog. The button is in the list on the left and says 'I made some science' which makes a difference to 'I made a jumper' I guess! Click on it to do the survey - only takes 10 mins.