So I switched on the light and went to work sorting through my stash and then took a picture of what I'd done. A pleasing summary of my day I think. Here is what it now looks like: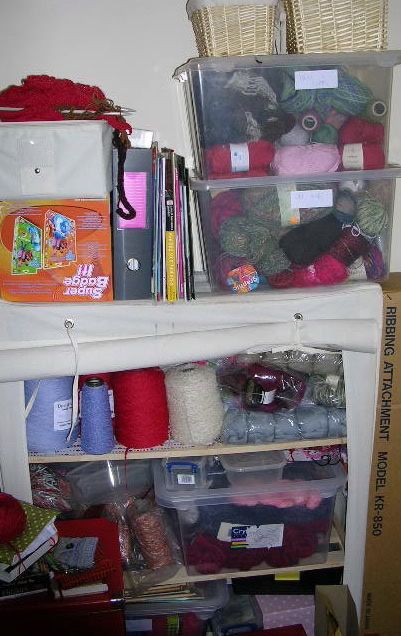 I post this here not to show off how incredibly neat it is (or is by my standards) but as a
start to my - show us your stash - campaign
. People always talk about how bad they are but what does this actually mean.
Join me, bloggers, and post pics of your stash for all to see.
Be brave...
Almost slept through the olympic announcement which would have been...inconsequential seeing how I live in Stratford and can hardly fail to notice the big statue of non-specific black female athlete outside the station. You look up at it and all you you can see is muff - wall to wall or at least filling my personal field of vision. Have managed to get some knitting done on the hipknits sillk clapotis. It is like knitting with butter or something and I have just started the drop stitches (far left) and they drop like raindrops running down a window pane (so fricking poetic I could cry, yeah right).
During my clearout I came across the villain cardigan in colinette tagliatelli that is just asking to be ripped.
I hate this thing. I loath it more than blueadt hated that cardigan. More than crazy aunt purl hated zelda. So the big question is, when's it gonna diiiiiiieeeeeeeeee? Tonight at golders green or will it live a few more days and maybe get frogged when I'm down visiting my Mum this weekend? Hmmmmm....
6pm - been a good girl. Not going out to knitting but have made use of what would have been travel time to frog the hated cardi and put the stuff on ebay. Search for '470g tagliatelli' if you're in the market! Feel so riteous now x