I think it has always been his hair that has let him down in the past. Pooch (who is lovely) has taken a perverse liking to watching cricket and so I have had some opportunity to observe the warne bonce of late and I like the hair for the first time. Enough about hair...although feel free to pick up on my bleh hair in later pics. Because today we are in picture central - I've got no less than 6 of the buggers to show you. Oh yes. To kick off we have the 2nd charity jumper complete with buttons. I'm not sure if eye lash yarn has reached the sub-sahara yet but it will do shortly (they asked people to make them as attractive as possible). These are for the feed the children appeal featured in simply knitting a month or so back.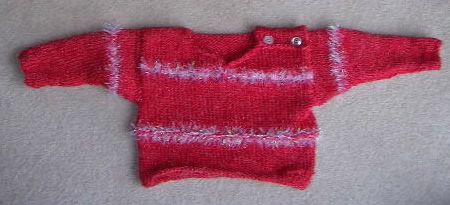 In fact let's get this stuff out the way early - here's a bit of housekeeping. I was wondering what would happen to the fabric marker ink I used on the cotton when playing with sock yarn and basically it has washed at 40 degrees unscathed. Always good to know.
You can see
here
why it looked all patchy like this in the first place.
Second (or third maybe, depending on where you started counting) bit of housekeeping is the progress of Brown's xmas scarf. I started this at golders green and it looked nothing like this.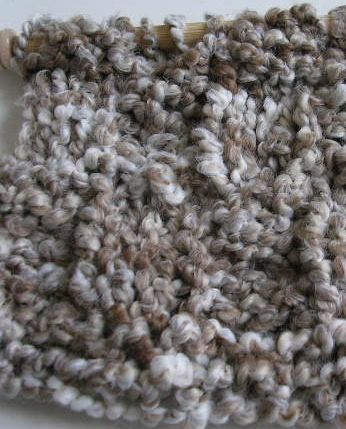 I decided the tenson was too tight, it wasn't wide enough and I didn't like the pattern I was using. So just a couple of minor niggles there. Ripped it and am going basket stitch on 7mm instead (recommended was 5.5-6.5). Has made a lot of difference and it might be boring to knit but at least it's simple and he'll like it.
So for the good stuff....allow me to introduce you to the i-believe-i-can-fly-cardigan. Made in the finest sari silk from the gorgeous Trudie at hipknits and finally sewn up this afternoon.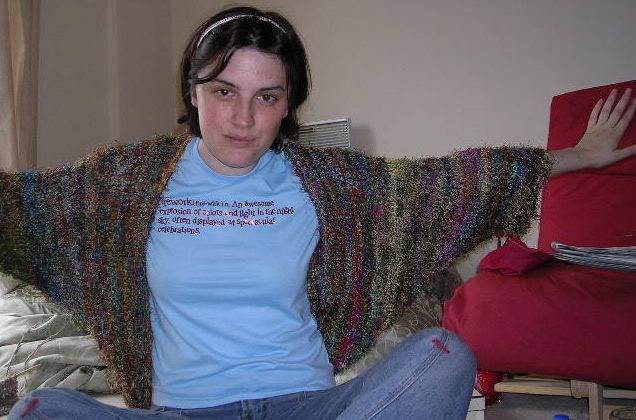 Here is a sultry side angle...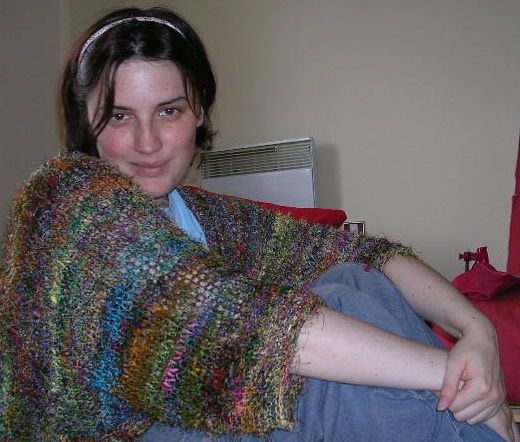 I know what you're thinking and yes, I shined my forehead especially for that photo. It's fabulous to wear, all slinky yet heavy and cold yet warm and smooth yet textured. Despite all these oxymorons (thank you gcse english teacher for teaching me that word - it stays with me even though your name has long gone) it is shedding like it's going out of fashion. Ideas on how to stop this? I have asked the UKHK list and I'll see what they come up with.
So another productively creative weekend. Next weekend holds Temari balls with Liz (hope she was OK at her festival this weekend - has been raining all day today) and...aha...my denise needles should arrive in the next few days so I can get started on the medallion loop-d-loop cardi in the
drunk-yarn pooch bought me
. Some of you will be wondering how I got Pooch to give in and pay out. Basically it is all down to Dr P and his wonderful advice, given to me on the day of the drunk-yarn. "Do not get annoyed Alex" he said "Put it in the bank and save it for when there's something you need or want." Dr P - you are a god among men. I think I have probably said this before but it's just so true. So during a further discussion while I was in the bath I played my trump card..."Stop going on about needles" says Pooch "Do you remember when I didn't go on about you not going to salsa?" I sploshed back. Ladies, I'm telling you, this is the way to go. Yes, it could be called a form of prostitution but hey I now own denise needles and didn't have to exert myself in any of the ways Pooch was suggesting I persuade him to buy them. And yes, I could have just bought them myself - but where's the fun in that?
Went to see the fantastic four last night and it was just my cup of tea - ridiculous action with loads of effects. Jessica Alba is ultra sexy. Captain fantastic is this fit welsh guy who's got the most chiseled cheekbone/chin combination ever and the baddie was just SO evil. He was excellent. Would recommend it as a good, fun film.