I'm classing picking up my pottery from art4fun as shipping - just so you know. And here it is...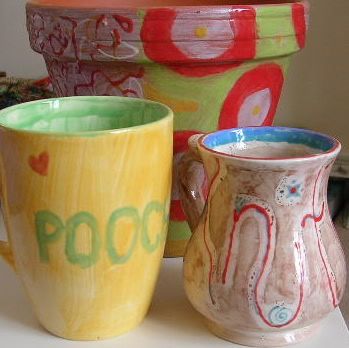 The thing to remember, when being very unimpressed by it, is that I had great fun doing it. And now I've learnt a lot about what not to do. I do quite like the mug for Pooch though. It says 'Pooch loves tea' which is very true and on the bottom I've written 'Alex loves Pooch' which luckily for him is true too. The "knitter" mug is nasty - poo brown and splodgy and I had such high hopes for it and I still really love the shape. So disappointing. And as for the plant pot....hum... People comign to my desk for a meeting will think I have a deranged child somewhere churning these things out for me whereas it's just the result of a deranged me.
While picking the things up I just happened upon four chrity shops and had a little rummage. Sadly no knitting things but I do have three star wars books and a Dr No video for Pooch. Plus I managed to find a few little things.
Aren't the green shoes horrifically fab? And that a cherry red velvet jacket on the left and the polka dots are a little shirt that I think is very sweet - reminds me of one Pooch and I first met (I was dressed as minnie mouse you see).
So what happened to me spending the day machine knitting and making felt beads. Yes, well. Things did not start well. Here I was, all ready to get going: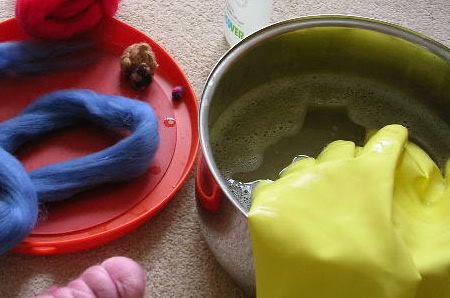 and this is what I ended up with: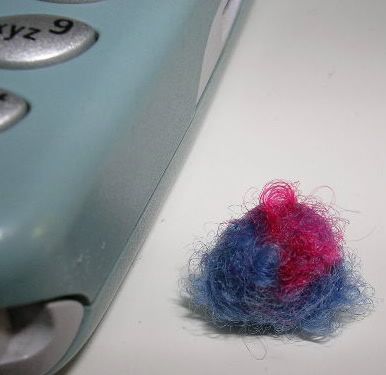 I've put my mobile there to get an idea of scale - it is such a pathetic little thing. The next one basically dissolved so I gave up. Easily discouraged, that's me. Next time I'll try doing them inside little bits of tights and putting them in the machine. Pah!
For the tube ride to and from west hampstead I took one of the colourways I got from designs and cast on a sock. I still can't decide whether I actually like it or not. Any thoughts? It is chocolate by town and country.