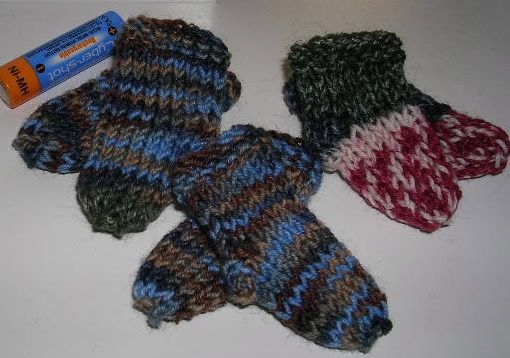 So who's had too much time for knitting today? Woah there, can one ever have too much time for knitting? What am I saying...
Pooch is out on the raz so have indulged in x-men 1 and tenny tiny tiny teeny baby socks. I'm a fervant supporter of 'ray of hope' (
http://www.rayofhope.co.uk/
) and there has been a request for booties for babies with feet an inch long so I whacked out 3 pairs while watching the film. The two-needles sock pattern just makes them so easy. Here it is in case anyone feels like having a go (if you think you're hard enough). (Other teeny tiny patterns on the ray of hope website).
With regia 4-ply or something similar (needs to be machine washable) and 3.5mm cast on 16 st.
4 rows garter stitch (all knit)
change to stocking stitch (one row knit, one row purl) for about an inch.
Knit 7 st, wrap st and turn
Knit back to one before end of row, wrap and turn (this is short row shaping which I can not posisbly explain but you can easily find on google)
Do three wraps on either side then knit across all stitches, knitting wraps and actual stitches together as one stitch. Once you have done this you should be back to 16 st.
(That's the heel turned by the way)
St st for about an inch
On right side row, k1, sl1, psso, k2, k2tog, k2, sl1, psso, k2, k2tog, k1.
Cast off purlwise
Lastly - sew up the side using your preferred joining technique and sew in ends.

Do two.

Right I'm bushed. Sweet dreams y'all (and god bless crazy aunt purl for introducing me to "y'all")