Am just watching 'The Sting' on TV. This is definitely one of my top five films. What are the others I hear you think. I can't tell you. You'd stop reading.
So anyway, Pooch and I have had a jolly nice day lolling about and going to Greenwich via a very long route. You see someone had left their pda on the DLR. And I know that if I lost mine I would have to go through some *serious* sarcasm from John, never mind the expense and data loss and stuff. So anyway I ring the person who is marked as 'work' on the PDA address book and tell them I'll leve it at Canary Wharf. So get off at CW and there's no staff anywhere, cause it's the DLR and it's all automated. So then we (I am with the Pooch) trawl all the way across some place and past a load of shops to get to the tube station and give it in. And then we decide to have lunch in this one place called Itsu which is all the way back across the other side and right at the top except we get there and it's closed. So then we go right back to the other side again for italian. I feel like I'm doing laps byt the time we get there. Anyway, enough moaning. As Pooch says it just goes to show doing the right thing has its consequences.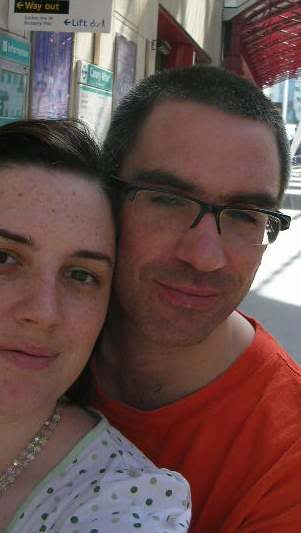 This is the two of us having done 'the right thing'.
Pooch had taken me to Greenwich for a shopping trip on him following the ridiculous bonus he got so I stung him for.....£11. What is it with me and taking money off people? I know it is a good thing really but then 'good' has you doing laps of canary wharf. Anyway, it's quality that counts and I came out of it with a lovely felt needlebook which is already housing all the needles that were previously 'put on that bit of carpet for safety' and so on. Or at least the ones I could find anyway...
I also have a heart shaped red felt badge from the same place. And then a red beaded rope necklace and some 'Alex' sequins. Which kind of brings me to....
Handspun stuff with the love sequins. Thought I'd felt the swatch I did and friends, looks yuk. So note to self do not felt this stuff - just knit and go. Also machine washed two swatches using the koolaid-dyed stuff and the darker one came through fine. The one that I've already knitted a sock out of bled a bit. Hmmmmmmm.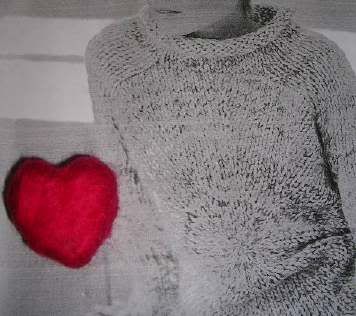 Have been feeling a bit lost knit wise - think it is all these socks - so thought I'd whip off a quick needle felted heart for the Poochster. And also maybe it would help to confess. It seems to help Catholics afterall. So....I am being sorely tempted oh knit-god-of-the-stash. I know it is wrong....I know it is wicked....but you see that jumper on the sheet behind the heart? It obviously needs dpn's but despite this I find myself....wanting to knit it. I know I know....what's come over me? I also want the circular cardigan on the cover of Vogue knitting. What has happened to me? Afterall, we all know my life mantra - 2 needles good, four needles bad. Perhaps this is a midlife crisis?
So anyway, like, whatever dude. Had something really important to share but can't think what it was now. So this is not goodbye, it's aurevoir....