Dude....have I ever not blogged for this long? Goes to show the action/illness packed week I've been having I guess.
The headaches are finally subsiding. I think it probably was sinusitus so many thanks to Nickerjac for the sinutab tip. I still have a session booked in a flotation tank for Monday though (thanks Yvonne!) which I am really looking forward to. I'm also thinking it might be time to get my eyes tested again (thanks Nikki). In fact thanks everyone for all your suggestions.
So finally I have had some time for some knitting...so prepare to be bombarded with pictures. First up we have a swtch for the pinky hat using my handspun. The yarn is red with red sequins so I thought it would look best on a red background (dur).
Pooch chose his red yarn and the life aquatic hat just needs sewing up now. Here he is modelling the wip!
It's very simple 2x2 rib and I basically did it yesterday on the train down to canterbury and back.
Canterbury was very good. I was there to see my little-ist sister Freddie who is now a whopping 17, and my two best friends Lucy (left) and Louise (right).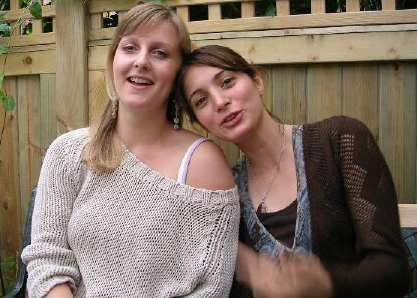 We were best friends at school and are still really close now. Freddie and her girlfriend Becky were there too but Freddie doesn't do photos at all. It's such a shame because she's really pretty and it makes me feel so proud to see the family resemblance (we share Dad A) but then I hated pictures when I was younger so I can understand why. The 5 of us had lunch together and it made me the *happiest* person ever. This is going to sound all gushy but it was like we were 'proper' sisters with her hanging out with my mates and me hanging out with her and hers. The two of us sat next to each other and everyone was laughing and joking and...it was just wicked. God I am sad but I don't care! It was really really good. After lunch Freddie, Becky and I headed for the shops where I was relying on them to help me look cool and regain my lost youth but frankly they were rubbish at that so I bought a jumper I first saw 3/4 years ago and a t-shirt with 'Hurley' written on it. Is this good? Answers on a postcard to me please. I like it anyway. I feel also that the general opinion was that anything was better than the star trek t-shirt I ws wearing. But come on, cut me some slack, I have a physics degree. There's only so far one can get away from that fact before it all bounces back at you!
One place I did drag them to was 'Jems' by the cathedral gates.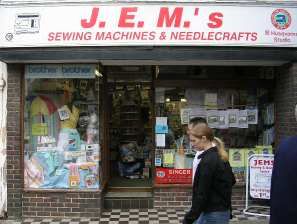 Jems has had a 'cool' makeover (not that the shop has changed at all in the last 50 years - it's just the stock) and are now carrying needle fleting kits plus things for scrapbookers. Despite queries from Becky along the lines of "How long can you need to spend in a sewing shop?" (I know, she needs showing 'the way of the yarn') I only bought 3 balls plus added a skein of variegated viscose to the embroidery threads and silk I bought at Liberty the other day.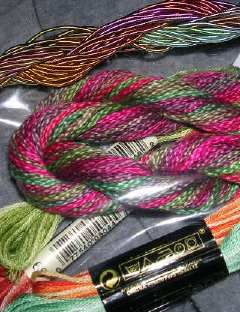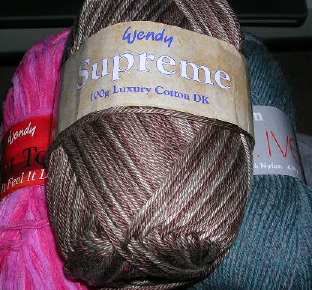 The sunbeam St ives is something I have't seen before but was in C&H Fabrics as well. Perhaps a kent brand?
I also managed one or two other little purchases for use with spinning.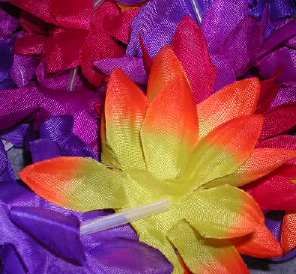 The flowers are one of those fake hawaiin garlands that I wil occasionally include one of in another creation.
So basically an awesome day. I sat down with Pooch in the evening and pulled out the kaffe fasset vneck which was beginning to resemble a ufo rather than a wip. It is now definitely a wip although I have done something that some people might think of as 'wong'. Cause what happened right was I started the front with the fairisle pattern and it's quite complicated. And I was bemoaning this at goldres green when, I believe it was, Jane suggested I make the back simpler and do it in stripes. I feel sure I've posted about this before in the distant past but the result can be seen here: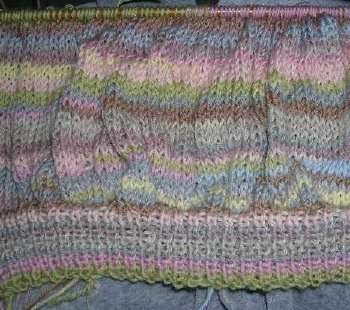 I've been doing it quite randomly and I like it - plus it makes a nice break from the fairisle every now and again.
So what does today hold? Well it's raining (I prefer this to the sun but don't tell anyone that) so I guess I'll be hanging out indoors. Fortunately there is knitting to be done and maybe some spinning and there is Pooch to snuggle up to. There is also the provisionally titled SKIP North to be organised - this is what I have been hinting at recently (SKIP = spinnign and knitting in public). A weekend extravaganza at Haworth in Yorkshire next Feb where 30 spinners and knitters will come together to share, learn and enhance stash through specially organised workshops and shopping trips. Nickerjac and I are trying to keep the costs down as low as possible and it looks like we might be able to do it for about £100 including all meals, 2 nights accom and luxury coach hire and materials. I have been crafting the website so I'll let you know the address as soon as it's sorted.
Phew right I think that's my lot for now!