What a wonderful day! I know I'm going to forget something so let's just bang up the pictures and let them speak for themselves...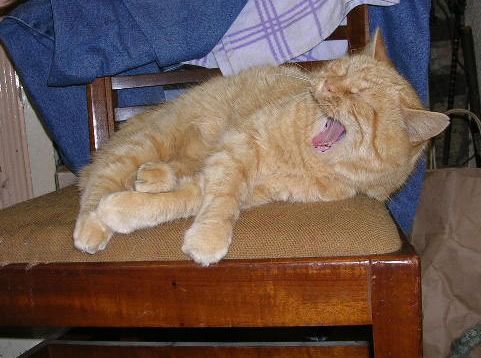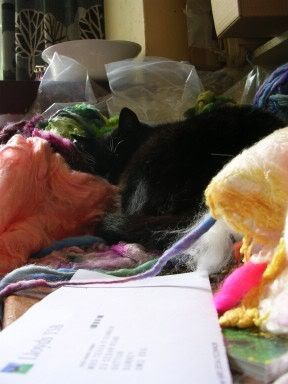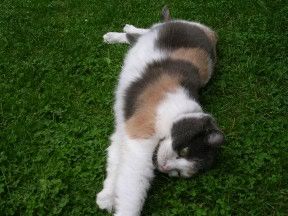 Yeah baby - cats. There were 8 all together and it was absolutely like cats to the left of me, cats to the right of me, cats all over me, and I loved it. I love cats. I was never less than a metre from a cat for the whole day. And then there were rabbits - loadsarabbits. They were so cute - I never knew andora rabbits have fluffy ear tips. There are pictures of them on
Silkwood's blog
so you can enjoy them there and see all the gorgeous colours they dye in (that Tess dyes their trimmed fur in, not what colour they go when they pop off).
Calming down slightly and remembering that there were actual humans there: Tess and Les are such wonderful people. They made me feel so at home and gave me free run and I got to spend hours spinning on one of their wheels (that's right, 'one of' - there were many many wheels). Les was awesome teaching me all sorts of new techniques. He showed me
Navojo weaving
which is woo ha another craft to get into to put on my list. And explained peg looms. And he kept sorting out the spinning wheel for me when I botched it. And he was wearing those funky braces withe the measurements and tools on. Really should have caught them on film for posterity. And tess - she was great - so easygoing and so knowledgable about all sorts of stuff. I hope Pooch and I (if we make it that far) end up like that. So comfortable with each other but not resigned to anything and understanding each other but also still fighting your own corner. AND....no hassles about the stash. And dude, talk about stash.
Nik was there too and was on good form. She was spinning inspired by the
pluckyfluff book
. But her yarn was absolutely gorgeous and I can't wait to see it knitted up. I managed to spin maybe 50g (?) of merino with the odd wendsleydale bit thrown in. I need to 'set-the-spin' by immersing it in hot water and then leaving it to dry under tension. I think it's supposed to be hot tomorrow so I might do this in the morning and leave it to dry from the railings outside the window during the day. Tess also gave me some gorgeous silk in colourway 'carnival' (you can see it on their
blog
) which is just absolutely completely and utterly gorgeous. It really was an excellent day although all I contributed was flowers....
.....because finally I had a go at one of the flower badges I was thinking about after seeing some at Loop. I think I might follow Nik's suggestion and start another blog with the pattern and so on on so that people can post their pics of theirs when they are done. Suffice to say this is what my first attempt looks like: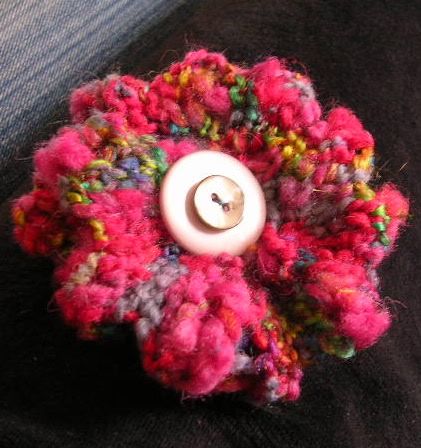 I made another in a huge thick/thin wool while I was there and tess had done a more demure one in some blue/green 4-ply (the same colour and weight as the stuff I got from the yarn house) and when you put the smaller one inside the larger it looked pretty cool. Loads of room for mucking about there! And they are so quick to do. Anyway, enough babbling. I'll post the blog address here when I get round to it.
Any other news? Well, hum...things look set to kick off tomorrow at work. It's been occupying my mind but should all be settled by this time tomorrow. I am re-energised (again!) to try my hand at more machine knitting and to do some navajo weaving and to start the 'spinning-wheel-for-byrne' campaign aimed at Pooch.
SUCH a great day!