Ow. Have got the lurgy. Again. This time it is this cold that is going around so nothing crazily awful but I still feel like poo. Enough of that though. My day confined to a house full of damp tissues will be put to good use with knitting and blogging.
I can see why my cold got worst - cause I spent 2 hours yesterday walking round regents park without my hat on. It was my first meeting with my new mentor who is a complete dude. He works as a facilitator for PWC and is the source of all kinds of knowledge. He seems fascinated by everything and I just really like talking to him. This was our 3rd or 4th meeting as I first bumped into him last year at a conference but it was the first one where I was going "so what do you think" and he was saying "Well what do you think" and so on. The meeting was so useful and really helped me think about the change management stuff I am doing at the moment and a couple of potentially awkward one-to-one meetings I've got coming up. For those of you who have not yet sprung upon the joys of mentoring there is lots
here
which is not specific to any particular profession, however it might look. I can recommend it as good stuff as, ahem, I wrote it myself in my former job.
I think I might have omitted to mention the impending arrival of a baby girl this week, curtesy of my first true love Vitas who was my first proper boyfriend. He and his girlfriend Charlie have been together for about 5 years and I am so excited that someone is having a baby who I actually know properly. I have already done this little cardi....what amazes me about this pattern is how you start from this mess which I kept folding this way and that and couldn't see how it would work: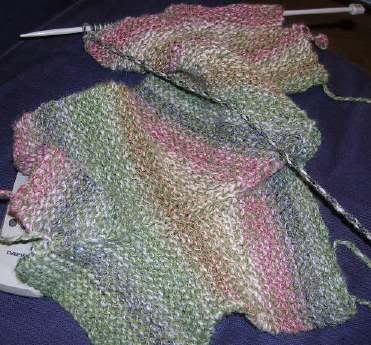 to this: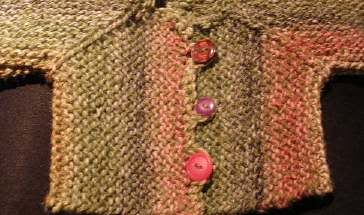 It's the James C Brett marble again. Dianne's knitting yarns (link in list in the left margin) has got some new colours in this yarn so I am just waiting for them to come out in singles rather than packs. She says it won't be too long.
A little hat...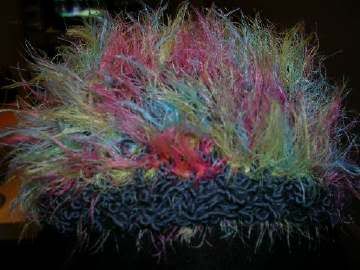 And am well into the wrap top from erika knights "simple knits for soggy babies" book.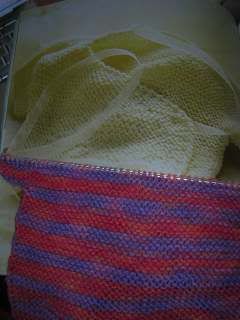 So really i have way too many WIP at the moment. Let's just list them shall we, so we can shame me into not starting anything else....
1. wrap top for the baby
2. Brown socks for Pooch's dad
3. Peacock curly whirly
4. Fortissima red tone socks for mum
5. Cargo jumper
6. Aran jumper
7. The eternal kaffe fasset v-neck
I think that's it but I am sure there are probably more unfinished pairs of socks about too.
One thing I did manage to finish was the scarf for Alex. He is picking it up toorrow from work but I'm not there so I'll have to wait and see what he makes of it.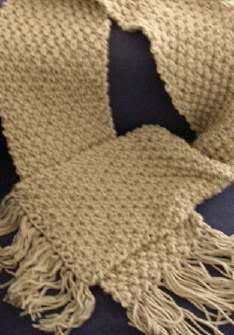 My SP played a blinder and sent me a lovely parcel yesterday. The highlight...actually it was all great but there were two things I especially loved. 495g wool in a lovely red. Don't want to waste it so am not going to rush into using it. Am thinking jumper or, actually, maybe, one of those low scoop v-necks. Hmmmm.
The joint favourite is this keyring. I've been meaning to get a keyring for ages as I haven't had one since I moved house. Isn't this sweet?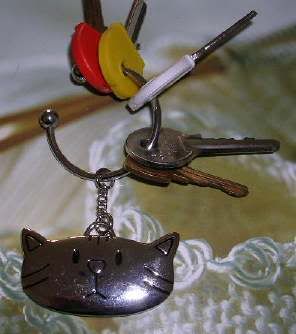 I also got body cream, a lush massage bar and a fruit bar (bless you for trying to make me healthier).
Still no word from my pal recipient. Have sent her a last ditch email today. My only concern is that she might be ill, but then she's been like this all the time.
Am selling a load of knitting bits on ebay at the moment.
Click here
to have a look at what's what. I'm going to add more of my beaded stitch markers later today and possibly some of those little fimo knit brooches. For now I think I might just nip back to bed for a bit of a snooze....