Actually I'm not sure about this claim - does making pom poms count as knitting? I used my pom pom maker that blueadt bought me and that was an SP gift. It all started when I was feeling knitting withdrawal and so bought Jan's Knitting magazine. I don't know why - it's still rubish. There is a pair of shoes that are beyond belief. Anyway, there was an ad in there saying the year of the volunteer had made this month animal month and you could knit cat toys. Off I went to their
website
. And here is the result:
I'm using up some leftovers and some dye experiments that frankly went soooooo wrong as I'm guessing the cats won't mind that much.
Yesterday was something of a monumental day for me as I ate only fresh fruit and vegetables ALL day. For example - four clementines for breakfast with almonds and raisons as a snack. Lunch was as pictured: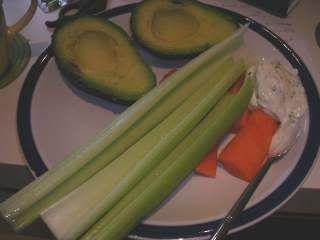 Plus a banana and 2 clementines for pudding. OK there's some dip there but I can't eat celery without some form of lubricant. Then roast aubergine for dinner - divine - and stewed apples with honey and raisons. And can you believe I didn't cheat all day? PLUS I went out running in the morning. So fricking healthy.
In between all this I managed to finish the cursed socks. Here is the patch that I knitted in so that they would actually span my unexpectedly plump legs.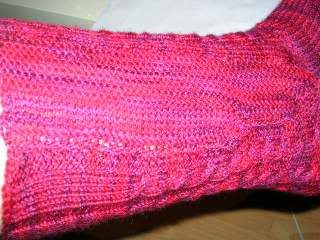 Here is the 'good' side.
And here they are in all their glory.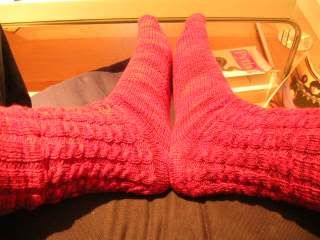 They are terribly soft and comfy to wear - I'm really pleased with them even though I had to do the whole patch thing. Cherry tree hill on 2.75mm needles.
The other thing I finished in the last few days was the mitred square noro thing I started about 2 months ago. I had thought it would be some sort of modular-knit-esque top but I have realised over time that I really don't like noro yarn. I wish I had realised this earlier as it would have saved me some vast amount of wonga. I had all these squares laying about so I sewed them into a tube, knitted a bottom and i-corded the handles. This is it pre-felting...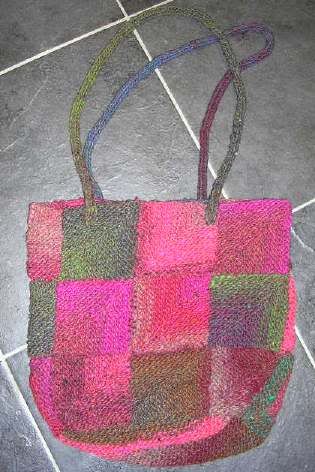 I have actually felted it but don't have a pic yet as it's drying so I'll post that tomorrow. It looks pretty effective and I'm thinking it will be a present for Charlie (baby's mother for those of you a post or two behind).
So this means I have two finished WIP in 2 days. Plus the pom poms. And now this leaves me with a leetle problemo. What to do next? I got out the kaffe fasset v-neck yesterday and had a good look at it. The thing is.....I don't like the coloours. Here is a pic from the archives to remind people of it.
What was I thinking when I chose all those pastels? So now what do I do? I've done a fair bit more of it since this pic but still not half-way. I could possibly stop there and make it into a bag or sachet or small cushion. Pooooooooooooo.
Even setting aside that project I'm wondering what to do next. I'm worried I might have knitting fatigue as I did those socks non-stop over xmas. I'm thinking today I'll have another bash at the knitting machine because that's more of a technical exercise than anything else.