Yes, peeps, this weekend I was visiting the mother in deepest exmoor. Took the presents down and generally said hello as I'll be xmassing at Pooch's Mum's again this year. I have promised her a website (can you believe neither she nor my step-dad Rob have ever seen "the internet"?) so was taking lots of pics of the shop. Here is one...
That is Pooch stage left, and mumsy in the middle with Rob doing a good impression of a customer. The shop is called "Shakespeare and Hall" and is in Dunster in Exmoor National Park.
Managed an escapade to Dulverton on saturday and combining my button haul from stratford with my one from there we get...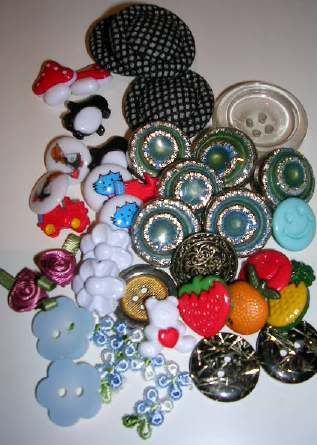 I just love buttons. And you know I came across pencil rolls in the cheap art shop I found on charing-cross road. And you can hear it too right? "Circular needle holders" they scream at me.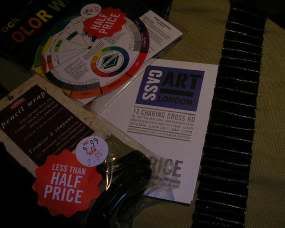 That's one rolled up and in it's wrapper on the left and unrolled and laid out on the right. I am thinking my golders green secret santa could be receiving one (decorated of course with a plethora of buttons). *Sigh* I just love those buttons.
I had the day off on Friday and had a lovely time doing domestic thingys and popping into the knitting store in stratford (in the covered market). I came out with yet more yarn for baby clothes (and the aforementioned buttons - or at least about half of those in that picture.)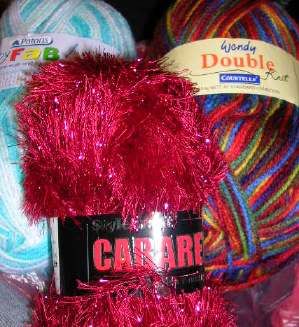 I like the rainbow one on the right - it's a proper robust rainbow and they had some knitted up there and it looked nice. Going to start knitting the 3 month + sizes though as they seem to grow quite quickly.
Actually spoke to Vitas on Friday as well and the little lady has been born and, as some of you may have guessed knowing what I'm like, I've forgotten her name again. I will be getting my first sighting on the 22nd when I go down to Margate before going back to Canterbury to see Louise.
Then in the afternoon on Friday I went to the V&A which is amazingly what I planned to do so I was very pleased with myself to be that organised and efficient. And the main object for my attention was Kaffe Fasset's xmas tree. I admit when I got there I was in a right mood and so basically looked at it, looked at the chihuly glass over reception and made some sort of derisive snorting noise. BUT....after a choc brownie in the restaurant (and man, that thing was good - no nuts which is the way such things should be) I made my way back and actually it's exquisite.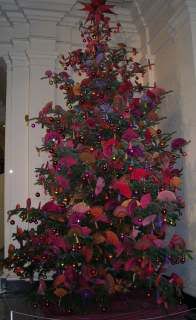 Here is a close up of some of the fans - his fabric glued onto cardboard.
The photos don't do the colours justice as ever. I also got a good look at Queen Maud of Norway's wardrobe in the fashion section. It was f.a.b. and really inspiring. Although inspiring towards what I could not say. I feel like I am gradually filling up with inspiration - like one of those water barrels in hardcore-gardener's gardens - and at some point I will use it all in some cerative burst. I don't know what though. I did also fall in love with the Kaffe Fasset quilts for the V&A book which is divine. Have been meaning to start a wish list for Pooch's reference so will add this to it.
So to finish, those of you who are members of the knitting and crochet guild will have received your copy of SlipKnot and will undoubtedly have noticed......
...on page twenty something. Yes folks, get your knitting holiday tickets here!