The intrepid gang more or less fill the handweavers studio - Nancy understandably got flustered at having so many customers at once.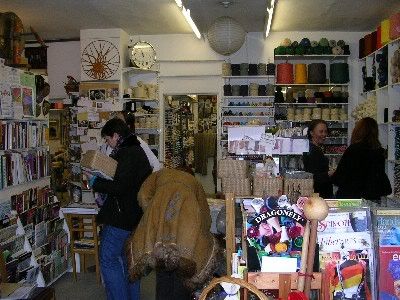 Knitting pub-style
Reaping the rewards of Kerrie's clear out - yes that is a full hank of giotto on the left.
The Giotto decidedly didn't want to be a pair of gauntlets - possibly because instead of 8mm needles I was using 4.5...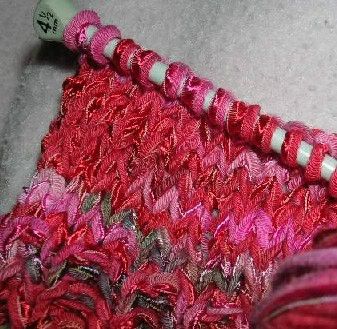 Roving, roving, everywhere...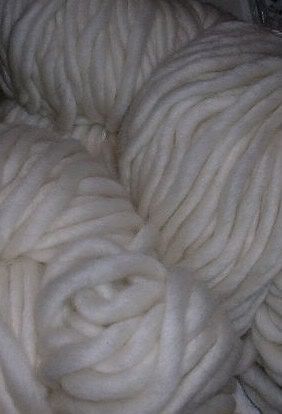 Copper bag handles ahoy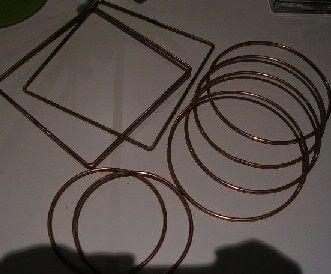 Knitting now in the Sunday Times Magazine as well as the
National Geographic
.
Read for yourself
Pooch at work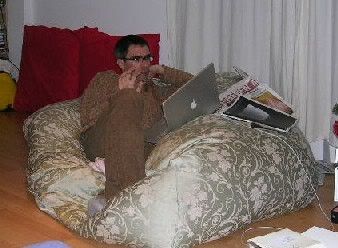 Pooch about 5 hours later - note change of position - no carpel tunnel or repetitive strain for that boy.
Actually Pooch was very lovely to me all weekend. The only other news is that I have rushed out and bought a "hot to...Punch and Judy" book from Abe Books. I can recommend Abe to anyone looking for soemthing a bit off beat and second hand. They do cross list on amazon quite a lot but they're still worth a look. I got my copy £5 cheaper than the current bidded price for one on ebay. Yaroo.