I remember about 2 years ago sleeping til 10 or later at the weekends. *sigh* Been up for 2 hours. I have become quite used to watching this weird world-sport programme on C4 on Sat mornings. This week was white water canoeing and cricket. My fave was the monster trucks. Let's face it - I should have been born American. Proof follows:
I adore sugary foods
I love WWE and Monster Trucks
I like doing all the stupid cheers during baseball games
When I was in America last year for 4th July I was more patriotic (to america) than the american cousins I was staying with.

I think the royal family are 'cool'
I am a big fan of the A-team, columbo, murder she wrote and twin peaks.
I dislike Canadians (or not wishing to generalise - one canadian)
I have a therapist

I have a birthmark in the shape of the statue of liberty
OK, that last one's not true but it could be. Anyway, back to the knitting... here is the clapotis. I am just over a 3rd done. Going to be huge!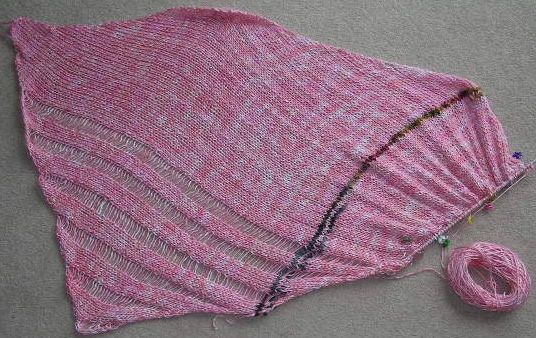 That dark line you can see across it is my own spun silk

It varies in colour froms greys to greens to reds and oranges - lovely! Of course my spinning is not quite the article so as you can see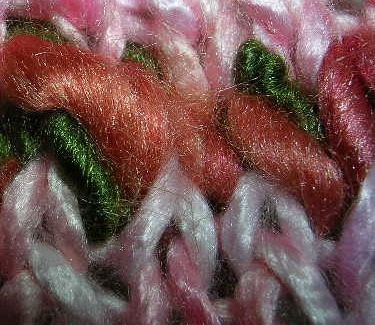 my contribution was roughly three times chunkier than the hipknits stuff. Had a small (ha!) effect on the tension but I've got five, or even ten, on it so it's under control.