Last post before PARIS. Am so excited now. Seriously excited. No, more than that. So anyway have managed to get batteries charged and ready for action so here are a plethora of piccies.

First off let me finally share the curly whirly #2 which is made from the yarn my SP gave me (this only used about 1/5 of the yarn she sent me!). The colours change from red to darker red to orangey red, all very subtle and lovely. I used an 8mm crochet hook whereas it is dk yarn hence the lacy and droopyness.


The other things she sent me are here – aren't they wonderful?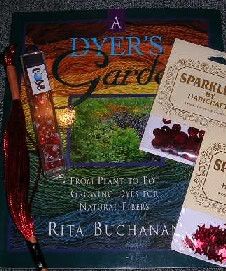 She said she had guessed my favourite colour was red so there are a whole load of sequins and beads and some shiny red cord and then the little book is wicked. An *amazing* source of info. If anyone has any madder lying about then just you let me know.

Fred has also been a wonder and sent me these cute little ladybirds. I am desperate to use them but am not sure where to stick them. Ideas people? Actually maybe a picture frame. I do absolutely adore them though. Thanks Fred! Xx


Going back to my previous SP present the first pom pom finally gets its moment of glory. YES I KNOW it is a strange shape and somewhat uneven. I will get there with time. The pom pom makers made it ultra easy and it seems to be holding together which was always the problem when I made them as a kid. It is made of the Louisa harding angora that I just don't get on with and that I had overdyed red as I didn't like the original colours.


There was another fimo outburst at the weekend as predicted and what you have here includes a pair of commercial cheap ebay wooden needles with experimental ends, some more of the little brooches and some buttons. Had tried making one of those millefori rods but was using fimo 'soft' which I think is too malleable to really do it properly. Ho hum, might mean a little trip to Hobbycraft when I come back from PARIS (so excited!!!).
The rounder buttons were made by creating a button mold out of air drying clay (basically press buttons I have that have nice patterns on into the clay and then leave to dry). I stuck a piece of the rod into the button mold and came out with these. You can't really see the pattern but they have different flower shapes impressed in them. Need to work on that a bit though to get it a little better.

Was thinking about xmas pressies for all my knitty friends and so obviously ended up on ebay. This seller really is the dog's. I've cleaned out her glass cat stock and thought these turtles and hearts were lovely too and really very reasonable. Very fast delivery too and a charming correspondent!


Aren't they just so divine?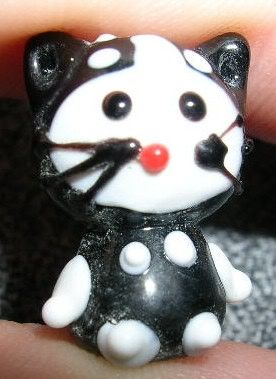 So have I done any actual knitting recently? Well I have bashed out most of a sock pretty sharpish. I really like this colourway – regia 4-ply – and had kept telling myself they were a xmas present but am def keeping these ones. Am also still bashing away at that rancid aran.


And finally, I never did share the pics of the dock where I am living now but here is a taster and a question. What are those black birds? I keep wanting to say Cormorant but then I'm pretty sure they're not. One of the juvenile swans has nonchalantly managed to get into the shot. Aren't they all lovely? The black ones are found on this jetty most mornings waggling their wings and apparently airing and drying themselves out a bit. The swans continue to be adorable.


So aurevoir mes amies. See you on the other side!