Bit of a catch up. But first thing's first...don't forget about this one: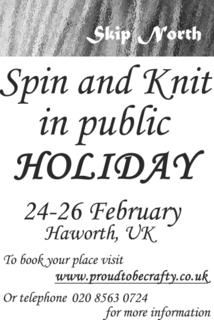 More details at
www.proudtobecrafty.co.uk
So do you remember during the summer I had a dream and it told me to knit three yarns together into a skinny scarf? Of course you do. Well anyway, I never wore it so frogged it which was no easy thing as was two fancy yarns and a cotton so took ages to untangle. And have started reknitting the eyelash and the yarn I dyed two days ago together as a...actually maybe I shouldn't say....cause the recipient does check in here every now and again.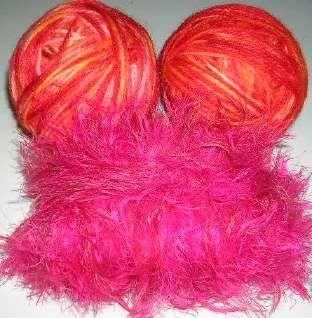 No intention in the photographic grouping although it does look quite sweetly innocent.
Found a couple of socks to photograph. This one is WIP and is fortissimo socko or whatever it's called that I got from web of wool at ally pally. I *adore* the colour changes.
The other are for pooch's dad for xmas. Town and County is the brand and the colourway is chocolate. It is VERY 70s but hey, Pooch assures me he'll love them!
My Sandra magazine arrived today and was rather miffed with the patterns. Only one sprung out at me and that would require some altering. This is it anyway...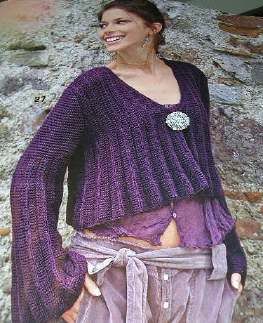 Not going to keep my subscription going after it runs out.
And finally here is the finished cardigan for Vitas's littl'un if he ever gets in touch. I think the white edging really finishes it beautifully! Someone asked where the patterns came from.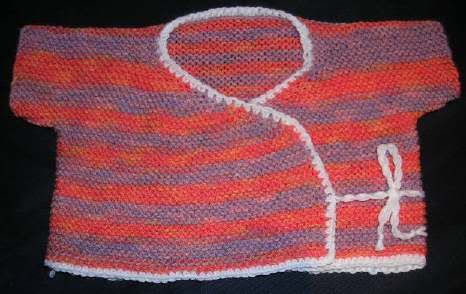 This one is the erika whatsit simple knits for soggy babies book and the other is a different take on the zimmermann baby coat which can be
found here
. I warn you you won't get it and will continue to believe it is all a load of rubbish until you're halfway through when suddenly all becomes clear. Well written pattern though - keeps you interested but not taxing.
Didn't make it to my conference which is really irritating. I used to see conferences as ordeals or penances but now, when I actually want to hob with the nobs and meet new people I get all sickly. Am on the mend - entirely due to all your good wishes I know. Pooch is improved too - plus he gets his test results on Friday and will have had the ECGs by then too. He hasn't had any other episodes recently though so hopefully it will turn out to be a temporary thing.