Yo yodelers, let's yodel together in a fit of yodelosity. Yodeleh ee-hooo. Just felt I had to get that out there because I have had a really lovely weekend. Let's run it down in order...
Little sister came to stay with her girlfriend. Pooch got horrendously drunk and amused them with his nerdy ramblings - they'd never seen anything like it.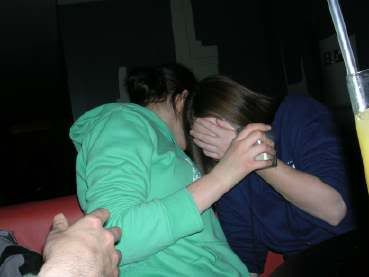 (She is the one in green - this is the only photo I have of her from about the last 10 years as she Does Not Do Photos.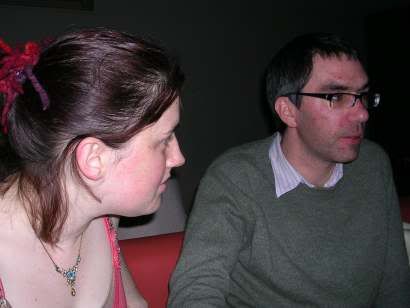 (Byrne looks on, worrying about what nonsense will come out of Pooch's mouth next....)

Pooch was sick on saturday morning which meant he was then in a really humble mood all the rest of the weekend.

Got 20% off xmas shopping at bhs and saw some really lovely towels with ducks on I want to go back and get in the sales.

Joe's birthday dinner was very nice and we got a black cab home because Pooch was still feeling poorly.

Slept like a fricking log and woke up feeling wonderful.

Had a lovely natter natter down with Nickerjac in Barnes - got SkipNorth pinned down completely now and she handed over a ball of Opal she had been given at Harrogate by an unknown associate and I LOVE the colourway.



Discovered my secret pal is Blueadt!! What a dude. She texted me to let me know. She's been really cool and I am really grateful. Thanks blue xxx

Got home to discover Pooch had written me a love poem! AND we are having yummy roast chicken for dinner.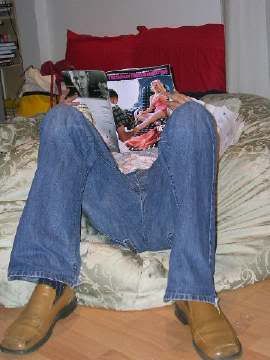 (The love of my life, pretending to read while his mind whirls away on an unfamilar romantic path. Who knows what poems are taking shape behind that magazine.....)



So basically yarooo yarooo life is good. There are also one or two little knitting matters to relate. The most annoying is that I still have a colossal amount of xmas knitting to do. Looking at it positively - I've almost finished the socka fortissima sock for my mother. Just a toe and the sewing up to do. Talking of socks Nickerjac showed me the sock yarn she got from curious yarns. She had the colourway 'faded' but I am pining for....candies, stone and bold. What I hadn't paid attention to was the smaller skein of solid colour for the heel and toe with the variegated skein for the main bit. And it is very soft and lovely.

Ahhh, life is good! Bit of an abrupt end to my blogging but Pooch wants the laptop (to write more poems probably!)