Well where to start? I guess with the hair - yes that's right, it's that time of year when Byrne gets a haircut. The lucky salon this time was
J-hair
with the frankly very easy on the eye KD at the wheel. It is, as some of you may have guessed, a japanese salon and is all funky but let's cut to the good bit - excellent haircut, wonderful wash, condition, head massage and highest level style and finish for....wait for it....£25. And they give you a card so if you get 10 haircuts you get the next one free. I highly recommend the place - and if you admire the snake-hipped-cutely-smiling-male ask for KD.
But enough of these fripperies, let's talk socks. I was sorely tempted by some shiny sock yarn about 2 weeks ago and it has arrived and, frankly, I'm rather disappointed.
It's sock yarn, it's got some lurex in it....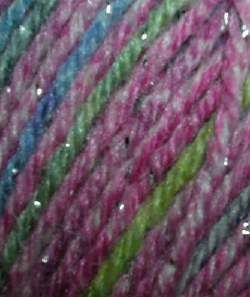 ...but the colours are very flat and the texture isn't that nice. Slap wrist for impulse buying.
And talk about impulse buying. Let us consider what I was thinking when I purchased this:
I started crocheting it into a 3rd jumper for the Vitas baby but then must have woken up or something because, dude, all it is saying to me now is "sanitary-towel-advert". Bit of a whoops there. Will be ripping that any minute now.
FRED FRED FRED looky here:
I LOVE the colourway. I finished this one at the golders green group last night and decided on a whim to i-cord the toe and make it all pointy. I think it is terribly cute. Have already cast on the second one.
So what have I got to finish with this time? The MOST exciting news -
Tom and Doug
have started doing podcasts. You remember them....Tom and Doug. The Tom and Doug. The writers and performers of
Gansta Knitter
. This is quite possibly the best music video ever made. To cut a long story short I have ended up with Professor Doug (he actually is a professor - of child psychology as it turns out) as a penpal and we have been emailing back and forth for about a year (maybe?) now. Just every couple of weeks and writing silly emails where I'm hoping mine make him laugh as much as his do me. I know I've missed the last posting date for xmas but I have got these together rather last minute to send to the intrepid duo.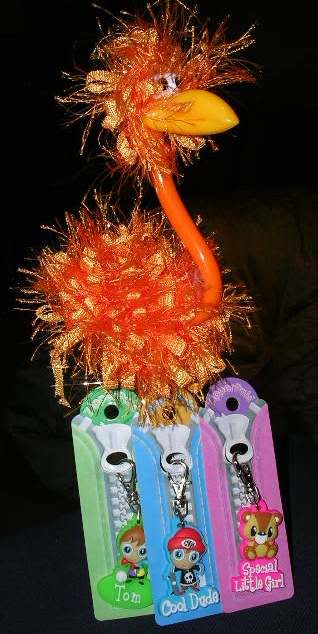 The crazy orange bird is a pen, obviously. Then there are "zip-pals" - one each for Tom, Doug (Cool dude) and Doug's little daughter. (special little girl). I fear Doug will try and keep the girlie one and give his daughter the cool dude one but then that's a man's right to choose.
Right, must go and get ready for work. Pooch woke me up early so that he could get in at 8 to right the wrongs of programming so I thought a little blogging would be good. On saturday there is the group visit to the handweavers studio so expect a smidgen of stash enhancement news on sunday. Seasons greetings to y'all xx