Let us deal with the first topic first. You know I love Cherry Tree Hill sock yarn? Well, you might also know they've had a bad rap recently because their colours have been fading in the wash. I myself have had a pair fade (as well as one pair be absolutely fine). Now last night I was happilly knitting away at Golders Green when I noticed my fingers had turned an interesting shade of blue.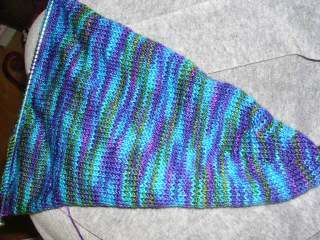 I had loads of dye on me! I wasn't , ahem, sweaty. I was just sitting there minding my own business and the dye came off on my fingers. I am going to send an email to Mrs Cherry Tree Hill and see what she says. It doesn't bode well for the washing and also means if I want to continue I have to resign myself to blue hands. Anyway, I will see what she says.
So the stash has started to arrive - the parcel from Winghams has made its way home, at least in part. Let us start with the variegated DK that is a new line Wingham have started doing.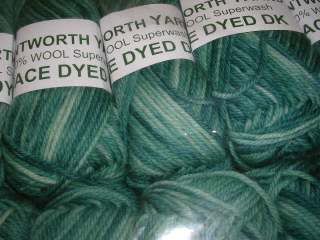 I would love to see some of this knitted up. I really love the colour but am not entirely sure it will suit me. Time will tell.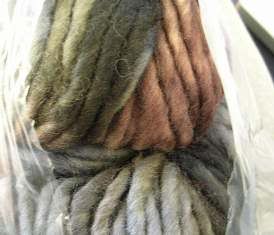 This is the pencil thick wool I am going to make another felted bag out of. This is what I made my first bag out of (and bought the wool at the Bradford trip in 2005). I saw a sample of this knitted up and loved the colours. A bit like moss on an old stone wall. Oo lala!
A rather lovely surina wood crochet hook.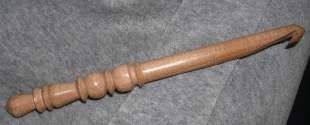 Wingham had the whole range of ornate and plain crochet and knitting needles, straights and doouble points. The double points go up to about 15mm I think too and the prices are very good - the plains are about the same as your average john lewis own brand ones. This is a 12mm.
Now the other project I cast on from the cone I brought back is this: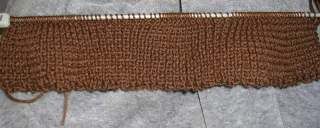 I did the bra test and it's lovely wool but something it's just not talking to me. I've done 20 rows of 1x1 rib though on 3mm so there's no way I'm ripping that out in a hurry.
Now did I mention I have swung a business trip to Philadelphia in May? Is going to be awesome and feel free to suggest which yarn hot spots I should ensure are on my itinerary! Not that I need anymore yarn at the moment....