I have literally just this minute finished this little baby top for Timo's kiddywink.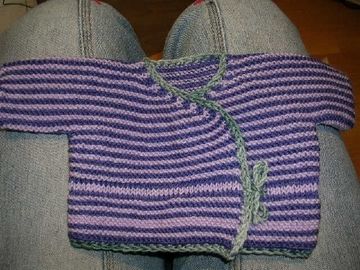 I'm pretty pleased with it. The double stripe at the bottom and the appearance of the st st band were both, ahem, planned. Has anyone else ever done this? It was weird. I was talking to someone and looked down to find I'd done about 4 rows in st st instead of garter. Couldn't be bothered with unpicking so kept it in and made sure I did the same on the front panels.
I really like this pattern - it's from erika knight's simple knits for cherished babies and you knit it all in one and then sew up the sides.
Pooch has given me his manflu except it has obviously mutated and become painful on its way over to me. Have been in bristol all day on a business continuity workshop hence my earlier than usual bunking off. I was having a chat with sean the other day and was talking about how it was going and I announced my discovery. In order to find something interesting I need to find it difficult. Most things I don't consider difficult because it is just a matter of spending enough time on it. So its more of a patience issue. So what this means is that nothing is actually challenging unless you don't have enough time to learn the basics and produce something. So I need to do everything in very short timescales. Which would mean I'd be stressed and the likelihood of going mad again increases. SO. To summarise. I am going to be bored for many years to come. Or mad. It's a strange choice and perhaps requires a tad more thought.
Off to sneeze and work up hatred for Pooch and his mutated germs....