(and other bad bits of french).
That's it, the non-pink one. I thought I'd put the original in the picture as well for comparison. It's got a bit shapeless over the last year but Pooch says it is still superior. Here is a detail of the new 'smarter' bag.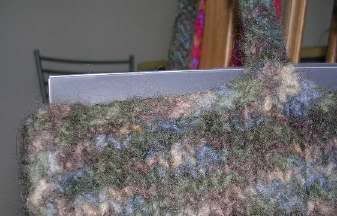 Design imporvements include crocheting up the 'corners' to giv it some definition. This has kind of felted bayonf recognition on the left there but it does work. And then sewing the i-cord handles to the inner side of the stitches only so the front of the st st doesn't get mangled and distorted.
I have been updating this in light of the arrival of the invites...
This is the official record of our engagment and so far contains all the cards we got when we first announced it and now...
...the invitations, front and back. Yep, they are postcards. We have a limited budget and I adore tulips so they're everything I needed in an invite. Now to some this might look suspiciously like scrapbooking. Oh dear me no, no scrapbooking here. Just sticking things in an album. Not scrapbooking. No.
Rocketing off to a different topic we have the latest addition to Yoshimi's wardrobe, a little intarsia raglan. Need to pick up round the neck and join the side and arm seams and then it's done. I did think about cheating and claiming this as my project spectrum project but now, I am too honest. This morning I woke up with my mind made up and cast on a second pair of wrist warmers.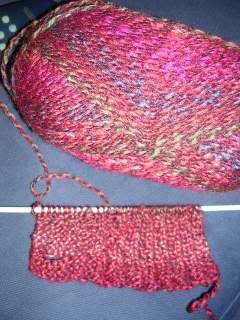 This is in the lovely james c brett which is surely becoming an obsession for me. Not much to show yet but I have posted because this actually IS the project spectrum project for March.
I can't remember now whether I mentioned this yesterday but I found an organic baby shop right by the cutty sark in Greenwich yesterday before I met up with Ruth and just couldn't help falling for these.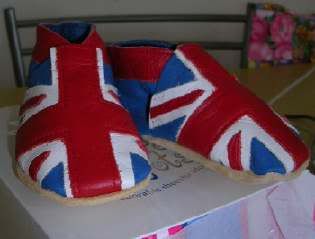 There is a reason for this. I am totally up for having a royal family and think they are lovely despite their philanderings and foibles. So when the golden jubilee came round I wore union jack pants and lusted after some union jack shoes I saw on oxford street. In the end I gave in to my desire only to find there were basically none left in a suitable size in the whole damn country. So now I am projecting this onto Shimi. Poor little thing but come on, aren't they awesome?!