The day didn't really start that well. As well as having to rush out for supplies for the man-flu-ridden-pooch I managed to leave without taking my pills. Got there in time for my first class which was 'crazy patchwork' where we made this card:
I didn't choose the design or the fabrics which are just not 'me' but I get the idea and that was the main point.
I was supposed to stay until 2.45 for a gilda baron painted landscape one but by half way through the patchwork my hand was shaking and I was finding it hard to concentrate. Made a beeline for the knitting area to say hello to Nic, Les, Tess, Yvonne, Fred et al and then looked around for the fabric area. Now the show was called "Stitch and Craft" so I thought there would be some sewing things, like fat quarters and had been really looking forward to choosing them. BUT turns out I hadn't paid enough attention and it was ALL cross stitch. And I mean ALL. There were about 3 knitting stands and some dodgy scrapbooking stuff upstairs but apart from that it was cross stitch central. And there are so many horrible cross stitch designs out there. I think I saw them all yesterday. So I went back home in my shakily dissappointed way. To be fair it did mention cross stitch all over the publicity stuff but why would they have pathwork classes if there wasn't going to be any fabric?
So I got back, medicated, and settled down for some online shopping. But do you know it's actually quite hard to buy fat quarters online? Either the places only sell half metres as min quantities or they had hardly any stock online (mail order only - how do they survive) or naff stuff. Eventually settled down to one store on ebay and this place
www.cottonpatch.co.uk
Will show you the spoils as they arrive. What I did get at the show is these: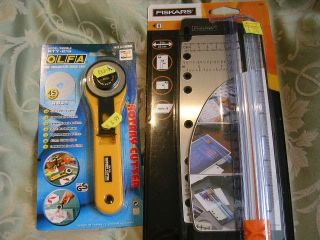 Finally the work on the brown jumper continues. Here is about 35cm of garter stitch. I've actually quite enjoyed it because I can just do it without thinking, but it's not that interesting to blog about.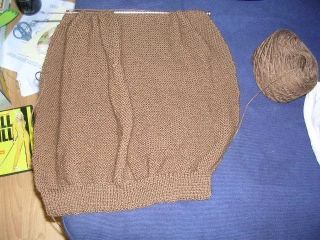 Pooch now making disgusting noises on the beanbag so must go and tend to him. He is very high maintenance.