I felt I had to put that rubbish about meringues first before being able to do justice to..... my second secret pal parcel! I am so spoiled! Such an amazing mix of colours too. Plus I really think my pal is trying to completely convert me to crochet.
Feast your eyes...
A crochet scarves book and another wicked crochet mag. I have only had a quick flick through these but this one immediately caught my eye: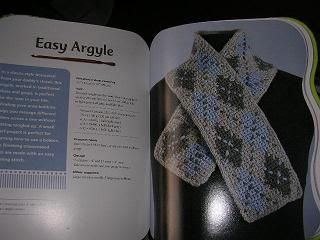 Pooch does rather love his argyle patterns (they make him feel closer to the golf he feels he ought to play).
Then there is a gorgeous pink t-shirt.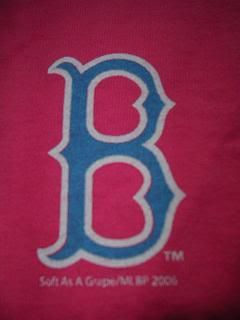 I am a bit confused here though SP. B is for Byrne - sorted. Plus it says "soft as a grape" under the B which strikes me as particularly random and wonderful. But it also says it is official baseball wear and I am ashamed to say I just don't know which team it refers to. Should I know this? Am I just embarrassing myself?
And as if all this wasn't enough, look at this amazing stuff....
It is every different colour you can think of and....it felts! AND she sent me a hat and bag pattern with it and there is enough to make either. So now I am in a conundrum. Or I have one. I'm not sure right now how to use the word and I'm too excited to care. Do I frog the crochet cardi and go with the bag? Or frog the cardi and then redo it. Or stop starting other projects when I've already got about 20 on the go and finish the hat? I need guidance here folks - help me out.
On the Pooch front I have to revise Thursday to one full hour because I forgot we had lunch. So that is...
Thursday (revised): 1 hour
Sunday: 5 hours (I was tricked into eating there in the evening which is undoubtedly where the crochet went wrong)
Monday (today): 0.1 hour.
That's right peeps...Pooch popped in for a quick 6 mins (I timed it so this tally could retain statistical validity) after I got back from work during half time of the 5pm game.
Poo - half an hour more cursed tidying before slumping in front of the really appalling yet addictive Rosemary and Thyme on TV. Such hammy acting although I always end up feeling sorry for Pam Ferris. At leat she pretends to be doing it a bit seriously where as that woman from that 70s thing about the self-sufficient people living next door to Margo and Jerry just mucks about being totally over the top all the time.
Um. I just critiqued Rosemary & Thyme? Wow. I really am willing to do anything to avoid the tidying. That's the problem with moving. You can't move a mess - you have to at least put it in a box first.