I was looking for the proper version of this quote when I found
this website
. I seem to have spent a large proportion of today randomly talking about religion. But that's not an interesting part of today. Let's skip that.
Let us examine the reason for my being in a personal hell. Exhibit A.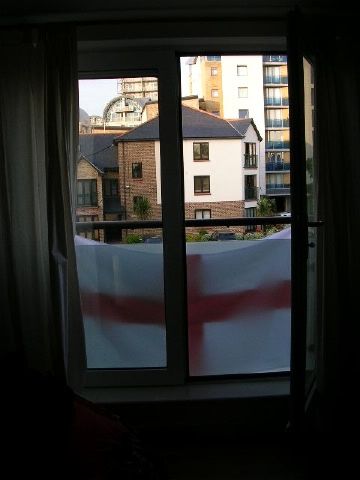 The World Cup has landed chez byrne. I have been absent for some time as Pooch and I had a small, tiny, barely worth mentioning altercation on Thursday prompted by that very topic that necessitated me departing for mother's on friday evening. Then I got ill with some weird trembling, shaking thing and couldn't stand up on sunday so ended up being there til yesterday evening. Pooch has just informed me the shaking was a Pooch-withdrawal symptom. Yes, you guessed right, the wedding is still on, this week.

I guess I am feeling a bit miserable today because the true extent of Pooch's desertion has become apparent as we went through the timetable of games last night. Hmmmmmm. Let us not dwell on that.

Not much knitting been going on recently. Do you know what, I'm nackered. God what an awful post, sorry peeps. It seemed to start so well too. I might reuse that title another time.