This is one. For I am talking about SKIPNORTH.
Man. I know I am the organiser so should probably be a bit calmer about things but this holiday is shaping up to be one of the baddest things ever. In a good way. Because now we have a history (i.e. Feb 2006) and have proved our buying worthiness places are actually willing to open especially for us. It is just awesome. And people keep volunteering to run workshops on the Friday afternoon. There is just too much good stuff going on to believe it will fit into one weekend.
Incidentally, bookings are still open at
http://proudtobecrafty.co.uk
although 19 places have gone and we were originally only taking 20. I've maxed us out to 28 but that will leave us straining at the seams so once they're gone they're gone unless I go mad and get a bigger coach. Unlikely.
You'd have thought an international playa such as myself would be rolling in wonga but alas this is not so. I am on a strict budget this month although in fairness this is so that I can afford to splurge at
Ally Pally
. Ooooo, I am just so excited about that too. Got a mental shopping list of all sorts I need to get. Yeah, *need*, right. Whatever. This all means more selling on ebay and I have decided that one of the things I will be passing on will be some of the sockhop sock yarn. I'll let you all know when it goes on. That stuff is fricking nice but I've discovered I can get a pair out of one skein so have ended up with twice as much as I needed. And that's on top of my already crazy stash of sock yarn.
I got my magic yarn ball last week and it was awesome as I believe I might have mentioned. Here is what it looked like when it arrived: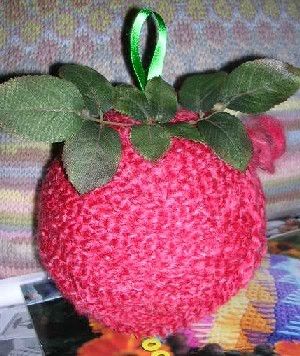 Looks good enough to eat! Here it is afterwards: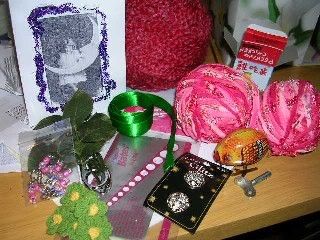 So many lovely things! I had a dream last night that I was using the littl green flowers to embellish something I'd knitted. It looked absolutely amazing - the most amazing anything has ever looked but I can't remeber what it was now.
The last photo is Proud to be Crafty- the zine that beats all other if only because it is free. Let me have your postal address and a copy is yours. Email it to me at
littlelixie@hotmail.com
or leave it in a comment. Just remember - it has to be your real actual living address and not your email. It's not available online. Ooer.