I have always wanted one of those japanese wrist bags and after an afternoon of non-work and browsing on craftster.org I came across some rather nifty links to bag tutorials. If you have not been to craftster you should go - there's a link in the list of blogs on the left. There are so many tutorials on how to make really cool stuff. I did quite a bit of printing that afternoon...
Anyway, the moment you have been waiting for..... (I'm suddenly feeling I may have hyped this up a bit too much)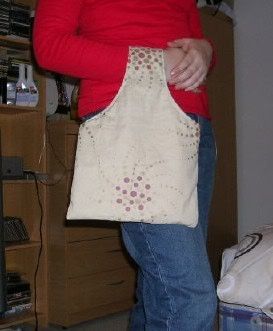 I can not tell you how happy this bag makes me. I bought the fabric out of John Lewis's remnant bin about, literally, 6 years ago and have been waiting for the right project ever since. It is perfect for this. It is a really good size and feels highly natural just sitting on my arm. Yeeha for craftster!
Now this was on Friday night because you all know that I do not actually have a social life. At all. On saturday I set to with a second tutorial and the lovely fabric Pooch bought me. And this is it!
Isn't it a beauty?
That's a little pocket inside for my travelcard! Pooch is really really happy about this. I like it that he likes it too and I like using the fabric he bought me!