Yeah, I don't really know really. I have been off work for a couple of days with a heavy cold but the blog was already a week old by then and I do have broadband at home so that's no excuse. I guess I just got a thing about it and didn't feel like posting. You know. A Thing. Like not walking under ladders or something. Maybe.
I have been knitting non-stop since I was last here but can't show any of it because it is all destined for stockings of the great and the good, which is to say, my family and friends. I have been getting a fine bevy of post not all of which has been photographed but most of which was concerned with ATCs. Here are some that did make it to the camera....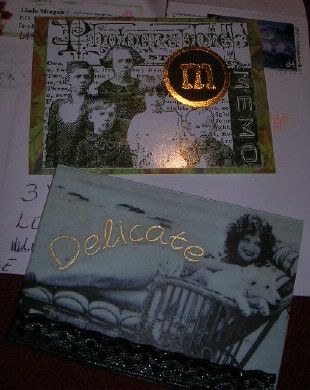 These are ones I did for a Kinky Swap.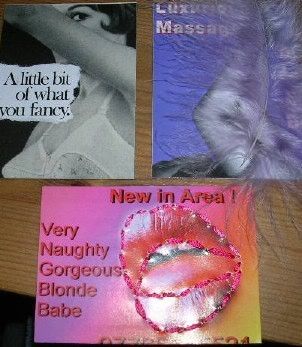 I've been having a bit of a crisis of confidence about them. I'm just not convinced mine are really worthy. I posted a message on the eclectic ATC group about this and it seems I'm not alone. Anyway.....
The second issue of the zine is shaping up very nicely and will be available from 1st Dec. That is to say it will be sent out from then but will actually be available to pre-order very shortly. Watch this space. Have been getting some great stuff from people to include so should be an awesome issue. In case anyone is wondering about the first issue the limited edition run of 50 has well and truly gone. Sorry to those of you who missed out.
Madwise I have experienced the 'profound shift' that therapists want their patients to have. I'm not going to go into it because part of it is having to talk about it instead of using this blog as a life noticeboard but it's good stuff and I feel whole for the first time in ages.
Today is of course remembrance sunday and I did the silence at 11am thinking about Grandpa Noah and all the others who have fallen while defending us. It makes me mad that the people who are dying now in Iraq are there for such a damn stupid reason but just because I disagree with the war doesn't mean I don't want to support the veterans. So I've decided to add The Royal British Legion to my charities that I donate to. You can make a one-off donation or set up a direct debit
here
.
I know I've got lots of blog news to catch up on. One more bit of news from me - I think we might be maxed out on
SkipNorth
but I need to check. There's definitely no more than 3 places left after a group of 4 joined up on friday. All so exciting!