Here is the finished object
The sleeves are supposed to roll up. The pattern is from erika knights special knits book although I added the curly whirly esque edging around the bottom. This is the yellow variegated yarn that I really like. I reall wish I could wear yellow without looking anaemic.
Then I did succumb and buy another skein of cherry tree hill. I love my first pair so much I have cast on another. In fact Gill at
Woolly Workshop
played a blinder and got it to me in about 17 hours order to delivery. Plus she sent me some gorgeous peace fleece buttons which I don't have to hand to photograph but will soon. Following all that negative publicity for angel yarns on UKHK I immediately recommended her shop to others and also do to you, dear reader.
I thought I would try a bit of a pattern for my 2nd pair (in 'gypsy rose'). The first were cabled so I thought I'd go for zig zag this time.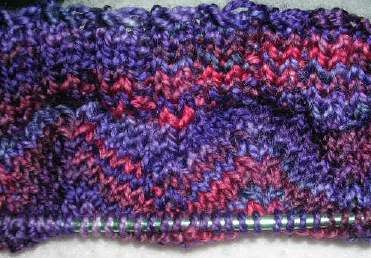 Pattern goesRow 1: purl
Row 2: k1, inc into next st (knit front and back), k4, s1 k1 psso k2tog k4 inc into next two stitches k4.....
Row 3: purl
So basically it is quite easy to get a grip on. For the first time I am knitting both socks at the same time on the same two needles. This means using the centre pull and external end of the ball I wound from my skein. I am a bit nervous I will end up with a tangle but at least this way I can ideally maximise sock length while ensuring both are an equal length. At least, that's the theory.
Off fabric hunting later on with Nikki. Will report back later when I have a min. It's Pooch's birthday tomorrow and celebrations today so I might not have time. Pooch has also just changed job so went out for his leaving do last night and came home god knows when very very drunk to tell me how much he loved me. He appears to have eaten a jar of rollmop herring after getting home.