I love beautiful things. This may sound a bit 'dur' but I just love looking at them. I class a lot of wool and yarn as beautiful which I guess is why I have so much stashed away and sometimes just get some out to look at it. Um, yeah, anyway. One thing that is definitely beautiful is Cloisonne by Kaffe Fasset. The first six fabrics on
this page
are it in different colour combinations (they stock most of his fabrics - I've used them before and the service was pretty good). It is 'moss' that I am currently loving. I found some more crochet hooks the other day and found the pouch I bought in Philadelphia wasn't big enough for my collection. So obviously I needed a new one and I set to it straight away. This is what I have ended up with:
This is it folded in three. I haven't added a fastener yet as I'm not sure what to use. This is it unfolded.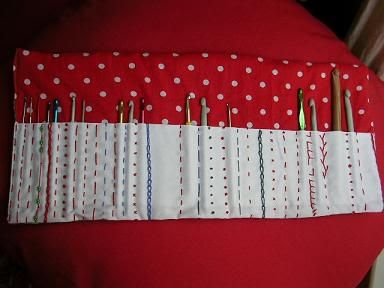 You see, I even managed to get my beloved polka dots in there too! It is the cover though that I really love.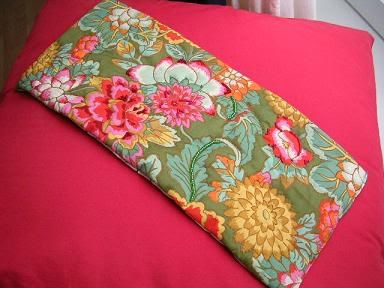 Isn't it just divine? I kept looking at the flowers and thinking they looked like jewels so I decided to accentuate that with beads. It's been ages since I embroidered with beads so I combined it with some quilting (I am still thinking about the Amish quilts I saw in the US and also the needle holder I made my SP recently. Actually I never posted a pic of that so more of that in a min.)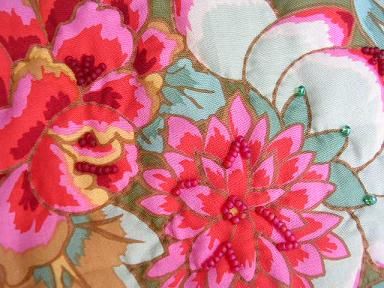 This is a detail of some beads. I just love looking at all the colours and feeling the texture caused by the beads and the quilting. It's one of those things where I do not care what anyone else thinks - I just think it's beautiful.
I said I did one for my pal and she's had it a few weeks now. I'm not on the list of people she reads so I think it's safe to post a few pics here. I did the same kind of thing with the outside except no beads.
This is a different Kaffe fabric from the Cotton Patch website (she prefers softer colours so would probably hate the one I've made myself!). Plus a bit of Louise Harding sari ribbon to tie it up. It was the inside I particularly liked on this one.
I embroidered the american needle sizes on the inside. This one is for circs so the loops are open at both ends.
Anyway. Because of this I haven't done much more on the cardi and I actually haven't done any knitting all week! This is where we were two days ago:
I had just done the armholes so decided to give it a whirl. I'm really not sure about the colours. But I've started so I'll finish.... The Pooch (this is him in a typical pose)...
... has just informed me that up til now he thought it was a tablecloth. This is despite me waving the picture of the girl wearing it under his nose every 5 seconds. Tsk. He has actually just done rather well this morning by joining me in a trip to drop off charity shop things to Lewisham followed by a trawl round the shops. He slightly blotted his copybook by buying me a doughnut, only for me to find it had the england flag in icing on it, but then it was a doughnut so no harm done really.
To keep things up to date I need to finish with,
Tuesday: 0 hours

Wednesday: 4 hours (was off work ill for these two days)

Thursday: 5 hours

Friday: 0 hours