Actually it's crochet. I knwo immediately this means half of you hate me but what can I say? I like it. I'm still doing squares for the big Kaffe inspired blanket from Interweave Crochet that the lovely Julie sent me. Here are but a few:
This is my favourite!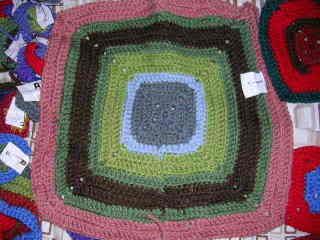 At my knitting group this week it was secret santa (we do ours after xmas as everyone gets so busy in the run-up). I did particularly well and am now the proud owner of my new favourite t-shirt. I wore it to surely the final xmas dinner of the season tonight and got asked if the little girl is me. I was never that cute.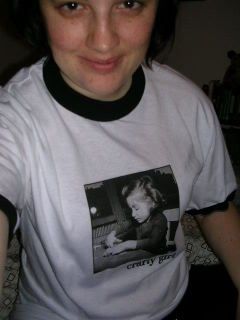 The weekend has passed all too fast and I can't help thinking about the MBA and how much time it is going to take up. I keep thinking I should be utilising my time better to make the most of it while I have it but then I think back to a time when I never even thought of using the word 'utilise' and wonder how many people actually have life turn out as they want it to. Morbid train of thought though so let's not bother going there.
Dinner tonight was rather awesome and most wonderfully cooked by Pooch and other members of 'the gang' (there is no gang etc etc) and finished off with the most splendid trifle I have had in many a year. I am more than ever convinced that food tastes best when you haven't cooked it yourself. Although that may be a reflection on my cooking. And probably is.
Just to finish off - if your name is Maylin from France and you sent me a cheque for the
Proud to be Crafty Zine
could you get in touch? I can't find your address!