Look what he was doing!!!!
Eating curry products right next to my silk clapotis. What's with the boy? I shouldn't get too annoyed though. I have been going through a transition in my life - from mid to late 20s - and I have come to realise that i have been dressing like.....
Su pollard
. I'm using her sacred name as shorthand for when you dress like you used to when you were ten years younger but now you're ten stone heavier and 10 inches wider and look...awful. It's this combined with the fact that you look at clothes and judge them only in terms of comfort. And even worse, comfort = trousers you can wear big pants with. Discomfort = anything that requires less than huge underwear.
I have been moaning about the onset of pollarditus for weeks now and so Pooch finally had enough yesterday and took me shopping. He agreed to buy me clothes on condition that he liked them all, and that they were boho, and that they went together. So this is what we end up with: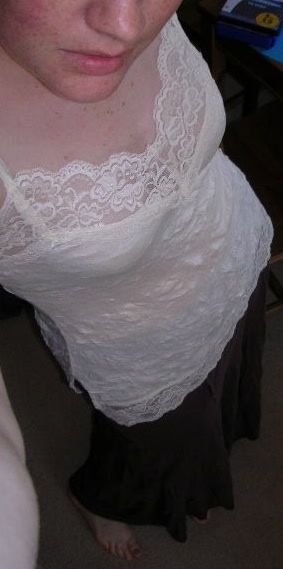 A lacy cream top you can only wear with certain bras and a boho skirt you can not wear big pants with without looking like....you are wearing big pants. It didn't stop here either - there is a white skirt and a brown top. There would have been a little lacy bolero cardi but being a knitter and a yarn snob I recoil from the synthetic yarns they've produced these things in. Later today we are going to look at my wardrobe and he's going to rate my clothes 0-10 on the pollard scale (10=something Su Pollard wouldn't even wear if she were on stage as a pantomime dame). It's for my own good and at my own instigation but is surely a recipe for a fine old argument. The goal is for me to end up with a style that I'm comfortable with (but not in a big pants way, although it could turn out that way) but that is more feminine than my current one. I'm not going to throw anything away, but I might just put it to one side for the duration.
A knitting related thig that goes with this is lace knitting, and here it is
Kate
who inspires me. The stuff she does is awsome and
this
is her latest one to get underway and I LOVE it. I would really like to be more of a shawl person. I have always loved Alphonse Mucha's painting and feel sure the women in those would have lots of lace shawls. So need to get choosing on one to start with. Birch from rowan 35 (I think) is a possibility. Will surf and see I guess!