By the time I got to the hospital I was feeling truly dreadful. I was a bit early so sat on a bench with a can of 7-up. Then this lorry pulls up right in front of me...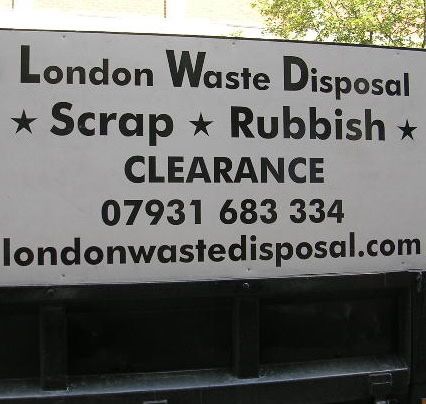 An omen, I thought. Then I looked down and saw my can of drink...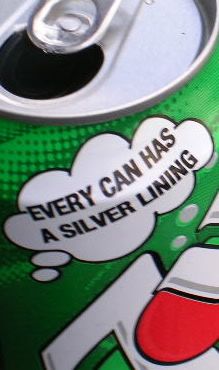 Ah, I thought. Maybe the only way is up. And then, and I'm not kidding, an empty hearse pulls ou of the road just to my right. I didn't have the camera in my hand so just sat there open mouthed watching it. Still astonished I looked to my right and there is a 'full' hearse, complete with flowers, plus 2 empty mourning cars waiting to pull out. Enough of fricking omens, I thought to myself and went in.
Dr P is a wonderful man - truly the most intelligent and understanding I've ever met. He explains how the male psyche works and so now I am not annoyed with Pooch but have, under Dr P's advice, 'banked it' for later use. Am now on a whopping 60mg fluoxetine a day and he is leaving a decision about lithium til Monday but that would only be short-term to help me over this 'episode'. Once I am over it he's going to try me on another pilllllllllllllllll.
So I left feeling better and with a new understanding of the Pooch-brain and made my way to the British Museum (got lost, but I hardly need to mention that as it happens with such regularity). I realise now that I only took two pics while I was there, and one of them was of pink lemonade with my hand dyed wool in front as I loved the colours.
The other is of Jenny, Elaine and Natalie - the old school posse as we are all veterans of such gatherings. Haven't seen Jenny for ages as she pretends to enjoy dancing more than knitting on wed eves now. Was good to catch up and meet lots of new people.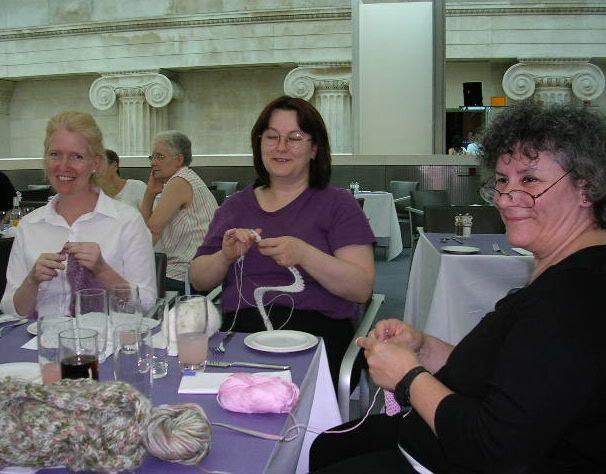 You know I'm now worried I've got Elaine's name wrong. How embarrasing - sorry :(
Finally, I got home to find a very drunk, very upset Pooch. Turns out there was more going on today than he'd said but won't go into that here. He had apparently staggered into Liberty (and undoubtedly given the poor knitting woman there a surprise) by demanding some 'good stuff' and then asking her whether it was all the same dye lot and pointing out that of course it wasn't as good as debbie bliss maya or noro. God knows what she thought. So I am up 10 balls of cashcotton in a lovely heathery colour.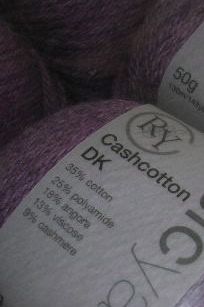 He also got a pattern book to go with it so it's either a cardi out of there or the dreamcatcher cardi from loop-d-loop. I'll have to work out if I've got enough for that one.
Many thanks to everyone who commented - I basically did everything that everyone said at some point yesterday (apart from actually going to salsa). It looks like the Poochster and I are OK for another day. Now I have to go off and eat some breakfast and stuff myself with 3 pills and paracetamol to combat the side-effect-headache. Wish me luck!